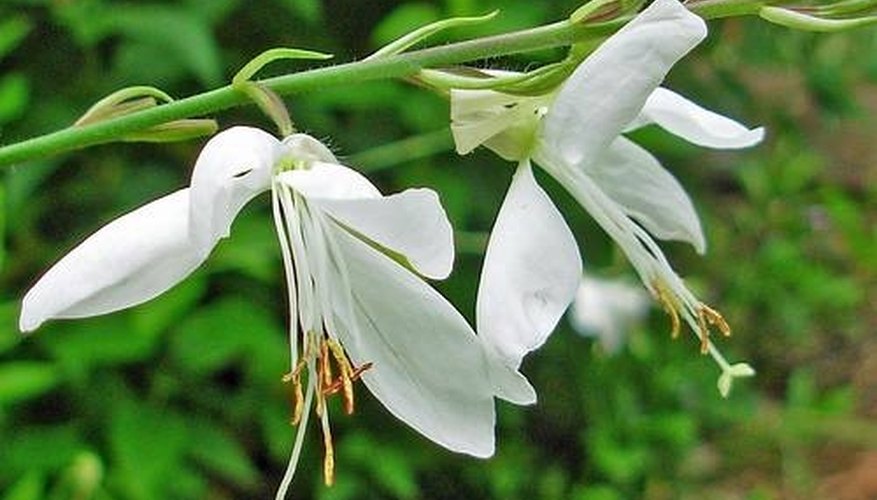 This North American wildflower is originally from Central America and is also known as Wand flower. It is a bushy perennial that grows well in zones 5-10 and is drought resistant making it a great plant for rock gardens or arid climates. The white or pink flowers bloom from summer through fall on tall wispy stems that can reach up to 2 feet tall. If looking for a nice plant to add a delicate burst of color to your landscape this is the one.
Choose a location for planting your flowers; should be an area that receives full sun. Gaura plants can tolerate partial shade especially if grown in hot climates.
Prepare your soil for planting. Till your ground after the last frost; work in a quality potting soil that has a neutral pH. If the ground is clay or heavy also mix in peat moss. Gaura plants will develop root rot in heavy, poorly drained soils.
Sow Gaura flower seeds directly outside in the ground in early spring after chance of frost. Plant seeds to a 1 inch depth; space seeds approximately 10 inches apart. Cover loosely with soil.
Water your seeds well after planting; do not overwater allowing water to pool on the ground which can wash out the seeds. Use a sprinkler or water can with a sprinkler head to water seeds. Seedlings should appear in about a week to 15 days and will flower the first summer it is planted. Keep plants watered so soil stays moist; usually once a day or every other day.
Fertilize with a slow release plant food twice a year. First fertilize when the plants bloom the first summer, then fertilize every spring and agan mid-summer. After applying fertilizer water in well.
Deadhead throughout the flowering season as needed. Do not prune the first year. Prune back the second year after flowering is done in the fall. Cutting back close to the ground encourages a bushy shrub.
Apply a thick layer of mulch in the fall to provide winter protection. This helps the soil retain moisture and protects the root from colder temperatures. Do not water as often during the winter; once or twice a week is sufficient.