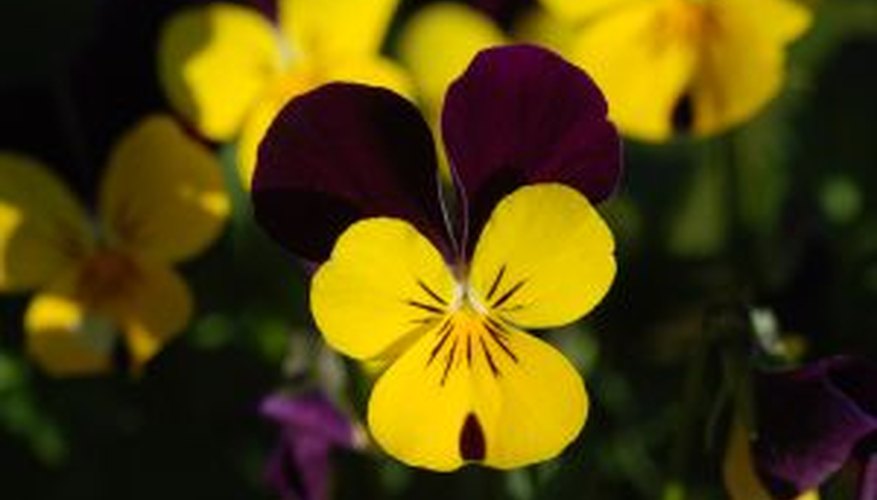 Johnny Jump Ups are the most common viola variety found in home gardens. These perennial flowers are often grown as an annual by most gardeners. They are easy to grow and are considered a wildflower as well as a garden plant. The bright yellow and purple blooms flower early in the spring and summer. Simple to grow for even the novice flower gardener, they bring color to your beds, borders and containers long before summer flowers begin blooming.
Prepare for planting 6 to 8 weeks before the last frost in your area.
Fill seed starting trays with soil formulated for seed starting. Sow seeds on the soil surface, and cover with 1/8 inch of soil or vermiculite.
Water thoroughly from the bottom of the tray after planting or by misting with a spray bottle. This avoids washing the seeds away or forcing them too deep into the soil.
Cover loosely with plastic wrap and place in a warm, dark area to germinate—up to 20 days. Maintain soil temperature of 75 degrees Fahrenheit; place on a heated germination mat, if necessary.
Transplant seedlings to outdoor beds after all danger of frost has passed. Johnny Jump Ups are tolerant of poor to rich soil. Choose a bed with partial to full sun.
Plant seedlings 6 inches apart in rows or clusters. Minimal crowding is acceptable.
Apply a general-purpose fertilizer to the garden bed according to package directions. Fertilize a second time one month after planting.
Keep soil moist (especially during dry spells) but not soggy. Apply a light covering of organic mulch to keep weeds down and preserve soil moisture.
Things You Will Need
Seed trays

Soil

Vermiculite

Spray bottle

Plastic wrap

Heat mat

Fertilizer

Mulch
Tips
For regions with mild winters and no spring frost, seed directly into the garden, if desired.

Before seeds form, pinch off spent blooms to encourage more flowers well into August.
Warning
Treat insect problems immediately with organic or chemical insecticides.
References