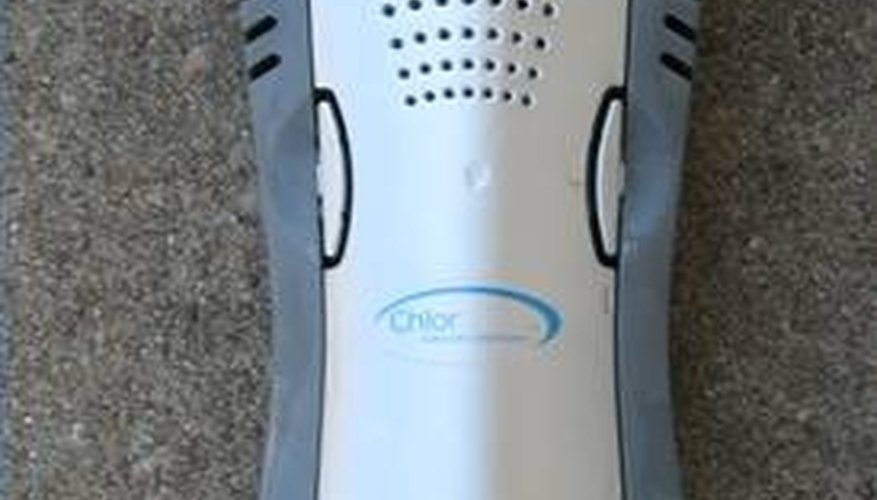 A salt water chlorinating system is a popular and safer way to keep your swimming pool water sanitized. If you have one, you know how gentle the naturally chlorinated water is on your clothes, hair, eyes and skin. The pool chlorinator houses a cell with metal electrodes that convert the salt water passing through into natural chlorine through a process called electrolysis. Unfortunately, your water supply may contain minerals that can cause hard water build-up on the electrolytic cell, hindering its ability to create chlorine. By cleaning the pool chlorinator yourself, you can keep your pool sanitized as well as prolong the life of the electrolytic cells.
Step 1
Turn your pool pump off before trying to remove the casing holding the electrolytic cell. Be sure to open the valve of your pool filter if you have one to discharge the pent-up air.
Step 2
Remove the compartment that holds the electrolytic cell. Your manufacturer's instructions for the pool chlorinator should outline the process.
Step 3
Add water into one of the plastic buckets before adding the hydrochloric acid. The ratio should be 10 parts water to one part acid. For instance, 10 cups of water would require 1 cup of the acid. Wear the rubber gloves to protect your hands from any accidental acid spills.
Step 4
Pour the hydrochloric acid solution into the electrolytic casing until the metal plates inside are covered, holding it over the empty plastic bucket to capture any spills.
Step 5
Put the entire electrolytic casing into the empty bucket and allow the metal plates to soak in the acid solution. Any bubbling you see is the hard water build-up dissolving on the metal plates.
Step 6
Take out the electrolytic casing once dissolving action has ceased. Fill the bucket a quarter of the way with water, and then pour out the acid solution from the casing into the bucket of water.
Step 7
Rinse the electrolytic casing with water over the water bucket to remove any residual acid and mineral build-up.
Step 8
Pour any leftover acid solution from the first bucket into the second bucket. Add approximately 1 pound of soda ash into the full bucket and stir with the wood stick. The soda ash neutralizes the weak acid solution in the water so it can be safely discarded down a drain or on the ground.
Step 9
Install the electrolytic casing back onto the pool chlorinator using your manufacturer's instructions as a guide. Reset any valves displaced and turn on your pool pump. Within the hour, your pool chlorinator should be creating natural chlorine to sanitize the swimming pool.