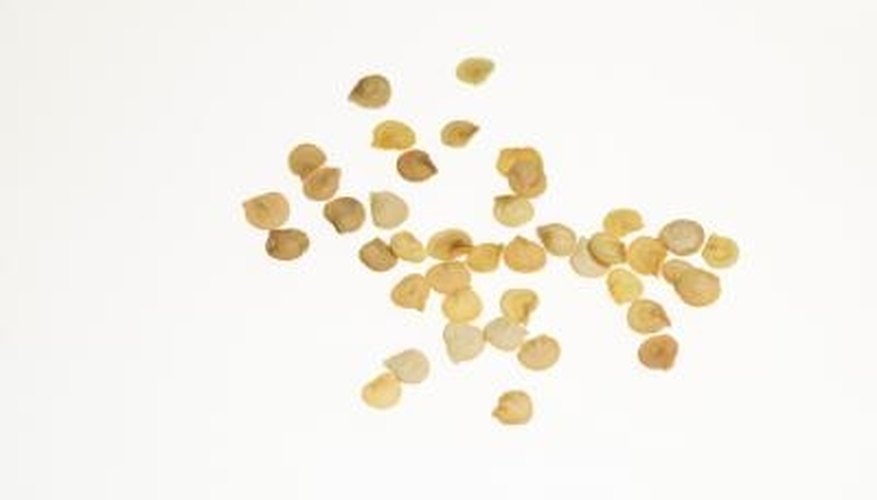 What Does it Mean If Dead Flies Are Stuck to Plants in Your Garden?
The dead flies stuck to twigs, vines and other garden plants are most likely seedcorn maggot flies or Delia platura. The larvae of these flies damage vegetables but not flowers, trees or vines.
Identification
Seedcorn maggot flies are grayish with red eyes and only around 1/5 inch long. Dead seedcorn flies stuck to plants often have pink stripes around their abdomens.
Significance
Those pink stripes on the dead flies are the reason why the flies died. They are the spores of entomophthora fungus. The fungus seems to interfere with the flies' coordination. They land on a leaf, vine, twig or plant and die.
Time Frame
Dead seedcorn maggot flies usually appear stuck on plants in early spring, especially when the weather is cool, according to Iowa State University. But they can appear up to summer because they can breed up to five generations in one year, according to the University of Kentucky.
How to Get Rid of Flies in House Plants
Reduce watering as much as possible for your specific houseplant species. Use the plants' foliage as a moisture indicator, only watering when wilting is evident. Dry soil environments immediately kill the flies' larva, breaking the pest's life cycle.
Minimize the organic material in the soil, since the gnats and their larva are attracted to soils that are rich in organic compounds. Repot your houseplant using a synthetic potting mix based on vermiculite or perlite.
Spray the houseplant's foliage with a standard insecticidal soap. This immediately kills the adult gnat flies. Mist the soap evenly on all exposed surfaces of your houseplant.
Treat the houseplant's soil with a chemical insecticide as a last resort. Use a standard diazinon-based dust mixed into the top inch of the potting mix according to the insecticide's label. Diazinon kills gnat larva on contact.
How to Get Rid of Flies on Flowering Bushes
Spray flies with an insecticide labeled to kill flies. Avoid spraying directly on the blooms, and always follow the directions on the label.
Set up fly traps around your flowering bushes. Try sticky fly strips, which can be hung on hooks, or fly traps, which the flies can easily get into, but not out of.
Install a bug zapper near your bushes if they are near your home, where you have access to an electrical outlet.
Home Remedy for Vinegar Flies
Killing Vinegar Flies
To kill vinegar flies, attract them to vinegar. Place a few small dishes of vinegar (preferably apple cider vinegar) around your home and garden, and the flies will be attracted to the vinegar and upon entry will drown in the liquid. For an even more effective solution, stir in a few drops of liquid dish detergent, which will work to grease the wings of the flies and prevent them from escaping.
Another way to kill the flies is to trap them inside of a jar that they cannot escape from. Place a few spoonfuls of apple cider vinegar in a jar or tall cup, then insert a funnel into the jar or cup. If you do not have a funnel on hand, make one out of paper. The fruit flies will enter the jar through the funnel opening, and will most times be unable to escape. Add an optional spoonful of liquid dish detergent, and the vinegar flies will eventually die in the vinegar solution.
Repelling Vinegar Flies
Mint is a natural repellent that will keep vinegar flies away from the home and garden. Make a few sachets filled with mint, or sprinkle crushed mint leaves around the home and garden. Alternately, mix a cup of water with a spoonful of mint essential oil in a spray bottle, and spray the mixture around the home and garden.
Eucalyptus oil also works as a repellent for vinegar flies. Mix one cup of water with a spoonful of eucalyptus oil, and spray around the home and lawn every few weeks or as needed to keep vinegar flies at bay.
How to Repel Fruit Flies With Rubbing Alcohol
Making and using the fly spray
Purchase a plastic spray bottle from a hardware or home improvement store.
Fill the spray bottle with rubbing alcohol.
Spray the alcohol at the fruit fles. The alcohol may not kill them, but it will knock them down and allow you to dispose of them any way you see fit.
Wash off any part of the kitchen or house that you sprayed with alcohol.
How to Catch Flies With Beer
Pour an inch of beer into a clear glass or plastic jar to bait and drown fruit flies. For a no-kill trap, place only a few drops of beer in the jar.
Roll a piece of notebook paper into a cone shape and place it narrow-side-down in the mouth of the jar.
Set the jar wherever you notice fruit flies. The beer will attract fruit flies, who will fly into the paper funnel in search of food. Since flies can't figure out how to escape, they will drown in the liquid or remain in the jar.
Replace beer every day or two. Release live fruit flies outside or pour liquid with dead flies outside. If you pour the liquid in your trash or down the drain, the beer may attract more flies to these locations.
How to Repel Flies With Herbs
How to Kill Fruit Flies on Houseplants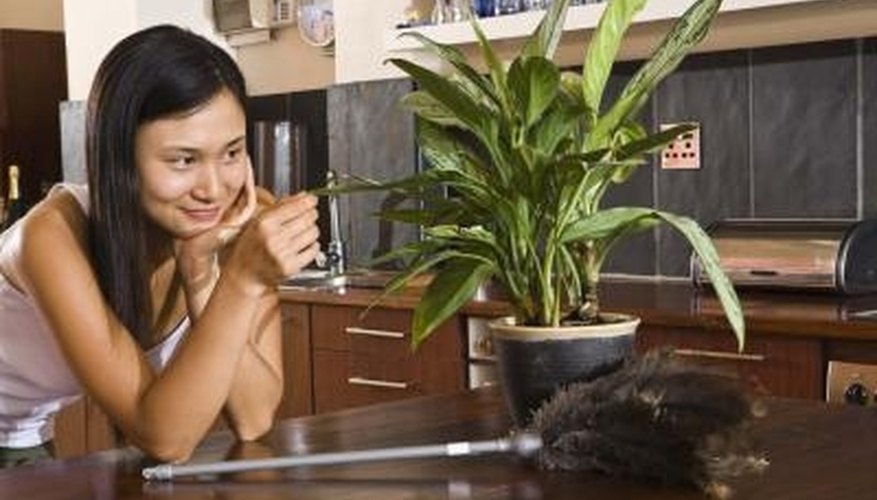 Pour an inch or so of beer into the container.
Place plastic wrap over the mouth of the jar. Depress the center of the plastic wrap with your finger so that it descends into the jar roughly 1 inch above the beer to create a funnel.
Secure the plastic wrap around the mouth of the jar with a rubber band.
Poke a tiny hole in the plastic bag with a pen tip. Make the hole no wider than 1/8 inch.
Place the trap next to the infested houseplant's pot. The fruit flies will fly in to drink the fermenting beer, but will not be able to fly out.
Essential Oils for Flies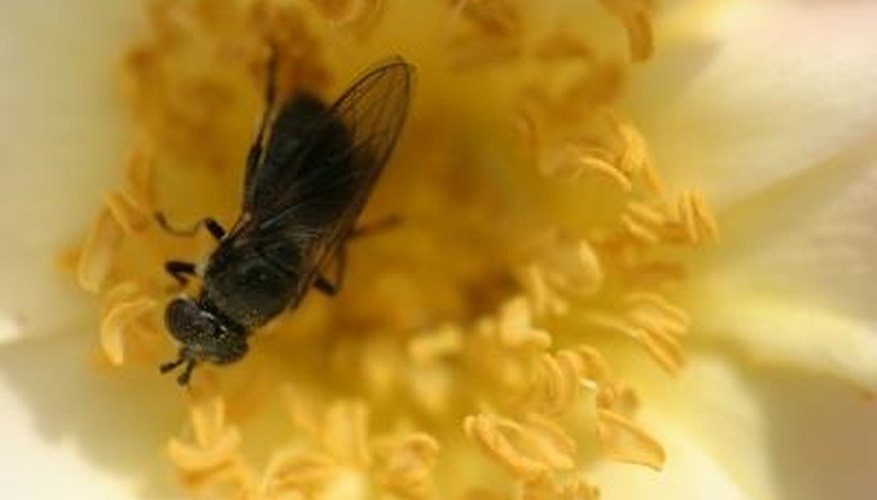 Lavender
Lavender oil, which is extracted from the flowers of the lavender plant through steam distillation, has a light, clean fragrance and has been used for making soaps and potpourris for years. Because of its light scent, lavender blends well with just about any other essential oil.
Cedar Wood
Cedar wood has long been used in furniture making and cabinetry because of its natural insect-repelling properties. Cedar wood essential oil, which is extracted by steam distillation from pieces of cedar wood trees, retains these insect-repelling properties, making it an effective oil for use in natural repellents. Cedar wood oil blends well with lavender.
Citronella
Citronella oil is the most popular essential oil found in natural fly repelling recipes. Citronella is an aromatic oil distilled from a tall grass of southern Asia. Its pungent, lemony fragrance is pleasing to most people but repels flies. Citronella is also found in insect-repelling candles and lamp oils for keeping flies and other insects away from large areas.
How to Keep Flies out of Restaurants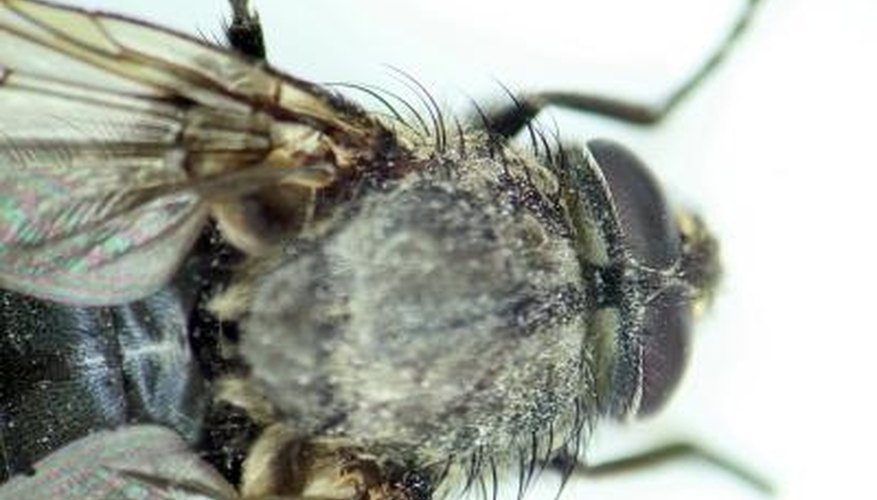 Ensure proper sanitation in the restaurant. All pipes, drains and drain traps should be clean, and no leakage should be present. Damp areas with poor sanitation can become a breeding ground for flies.
Wipe down every counter and table after it has been used. Refrigerate any food that is not being used.
Close the trash can with a lid. Rotting waste attracts flies, making the restaurant unhygienic.
Use an air curtain at the entrance to prevent flies from entering the restaurant. An air curtain acts as a barrier for flies as they cannot pass the steady flow of strong air. This method is also used at the entrances of malls and department stores.
Use double doors and fly-screen doors to discourage flies from flying in.
Use bug zappers to kill flies. These are tube lights that give off a blue light. The light attracts flies, which are killed by high-voltage bars.
Characteristics Of Flies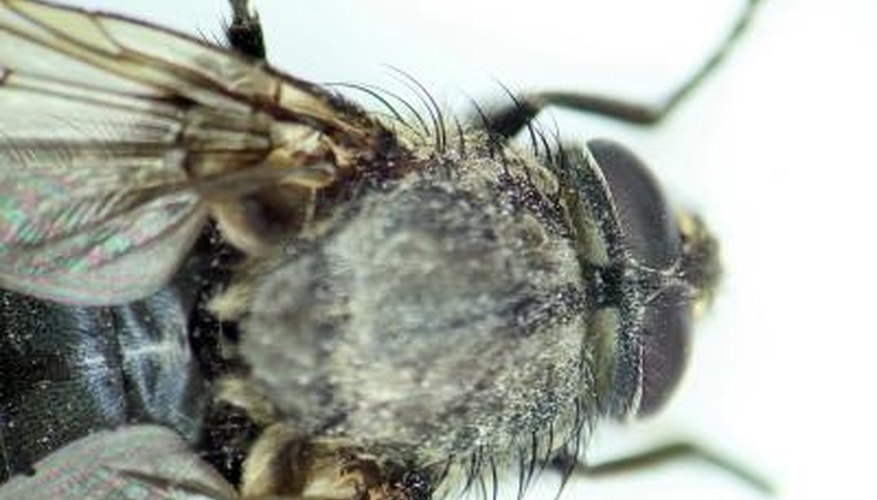 Segmented Body
All species of flies have a segmented body with three main parts: the head, abdomen and thorax. The thorax is the middle portion of the body and the abdomen is the end. A fly's entire body has a hard outer surface called an exoskeleton which serves to protect the internal organs. Fully grown, most flies are about 1/4 to 1/2 of an inch in length and their wingspans measure approximately 13 to 15 mm.
Legs
Flies have three pairs of jointed legs that are attached to the thorax. Each leg has five segments: the coxa, femur, tibia, trochanter and tarsus. The bottom segment of the leg, the tarsus, has two small claws and a pad with small glandular hairs. The claws and hairs allow the fly to stick to surfaces even sideways or upside down.
Eyes
The fly has two large compound eyes, one on each side of its head. They are brownish purple in color. The surface of each eye is divided into 400 different facets, allowing the fly to see 360 degrees. The fly sees a mosaic of a scene rather than one solid scene when it looks at something.
Wings
Flies' wings are transparent and have a system of veins and ridges that provide support. These veins provide blood and oxygen to the developing wings during the fly's larval stage. The housefly can fly up to 30 miles per hour and beat its wings over 200 times a minute. There are tiny hairs on the surface of each wing which are used to detect changes in air pressure during flight.
How to Get Rid of Fruit Flies (Easy, Cheap, Safe & Clean)
How to Rid a Poinsettia of White Flies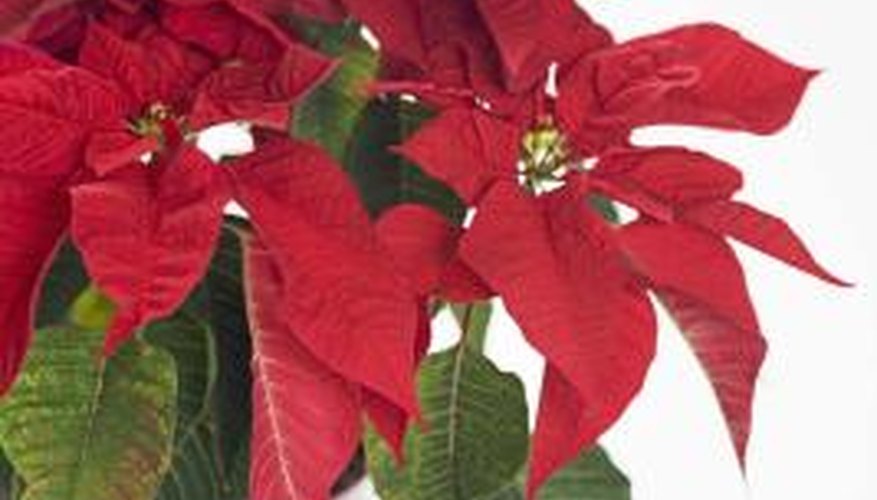 Chemical Measures
Step 1
Spray the foliage with insecticidal soap. Make sure you cover all areas, especially the undersides of the leaves where whiteflies enjoy taking refuge.
Step 2
Respray the poinsettias as often as the label on the insecticidal soap indicates, generally in just a few days. It usually takes more than one application to rid the plants of whiteflies.
Step 3
Check the poinsettias daily to make sure no insects return. If re-infestation does occur, use the insecticidal soap again.
Mechanical and Manual Measures
Step 1
Gently vacuum poinsettia leaves with a hand-held vacuum, as suggested by the Government of Alberta's Agriculture and Rural Development department. They suggest doing this when ambient temperatures are cool so the flies are sluggish and easy to vacuum up. Remove the bag, if applicable, when you are done and place it in the freezer to kill the insects. For bagless vacuums, dump out the contents and immediately spray the pests with an insecticide.
Step 2
Remove foliage that is badly infested. Place it in the freezer overnight to kill the bugs before discarding the foliage in your trash.
Step 3
Place sticky traps all around the poinsettia plant. These will trap many of the flies.
Do Plants Grow Faster With Water or Coke?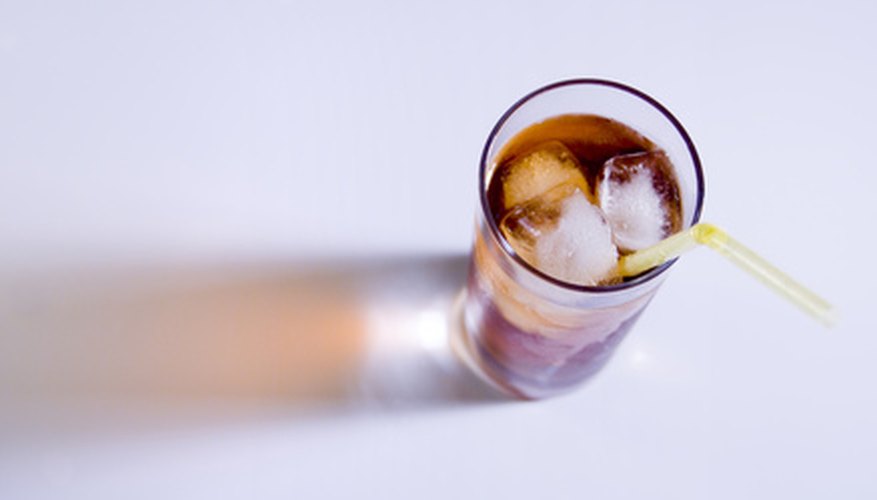 Plants that are watered with coke die faster and grow smaller than those that are grown using water. Coke also creates a strong odor that attracts flies to the growing site.
How to Kill Gnats Without Chemicals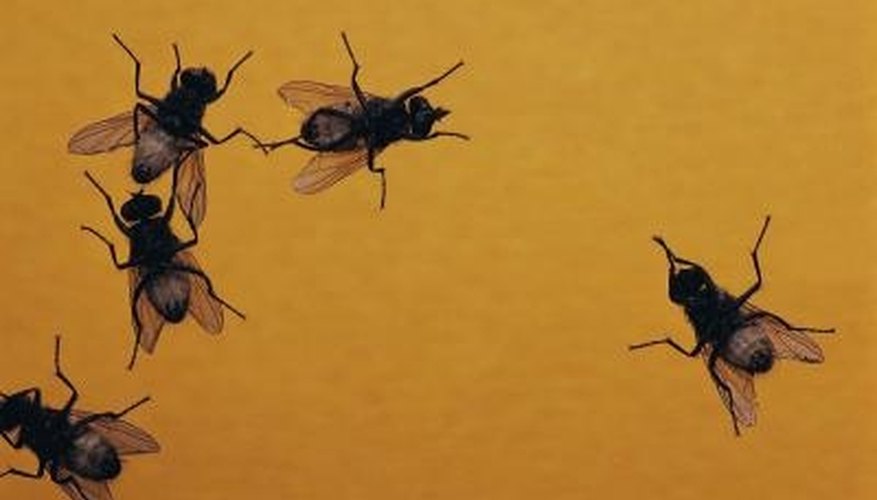 Prevention
Fix tight-fitting wire mesh screens on windows and doors to prevent fruit flies from entering the house.
Eat or discard ripened or cut fruits before they attract the fruit flies. Throw away cracked or damaged portions of fruits and vegetables to prevent fruit flies from laying eggs in the damaged sections. Fruit flies lay eggs in fermenting fruit, and their larvae feed upon the fruit when they hatch.
Line your garbage bin with plastic garbage bags. Empty the garbage bin regularly and keep it covered at all times. This will prevent gnats from colonizing garbage bins and feeding on the organic waste.
Elimination
Trap and kill the fruit flies with vinegar bait. Add 3 oz. of cider vinegar to a wide-brimmed glass jar.
Prepare a paper funnel by rolling a sheet of plain paper in the shape of a funnel. Place it over the mouth of the jar, such that the narrow end of the funnel is around two inches above the vinegar.
Place the jar in the area inhabited by fruit flies to attract them to the vinegar, which will kill them.
Dispose the dead fruit flies after a sufficient number have collected in the jar. Replace the vinegar in the glass jar proportionately.