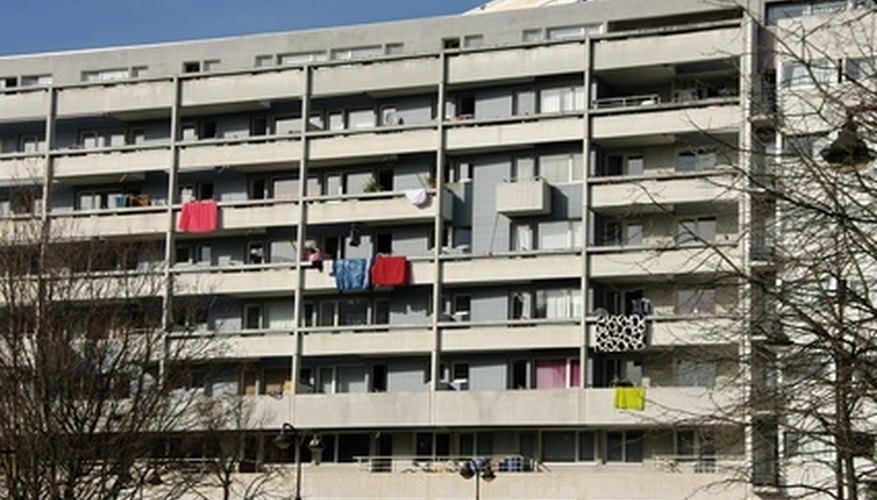 How to Resurface a Concrete Balcony
Concrete balconies can typically be enhanced with a new coat of concrete and paint to repair and seal any cracks and chips that the balcony may have sustained over the years. Resurfacing a concrete balcony is similar to other concrete resurfacing jobs with the only variation being the texture. Older balconies tend to have a more textured surface whereas newer ones are smoother by design. Textures can be duplicated with the help of a bristle broom and trowel.
Repair any cracks up to 1/8-inch wide by filling it with concrete resurfacer. Smooth out with a putty knife. For cracks up to 1/2-inch wide, fill in with concrete repair caulk. Squeeze the caulk with a caulking gun and smooth it out with a putty knife. Let it dry.
Mix concrete according to the manufacturer's directions in a plastic bucket.
Spread the concrete mix onto the concrete balcony and smooth it out with a flat steel trowel. Press down hard and evenly to make sure the concrete seeps into every crevice.
Use a medium-bristle push broom to texture the wet concrete to create a slip-resistant surface.
Let the concrete dry for 24 hours.
Prime and paint as needed, then seal the surface with a water-borne masonry sealer.
How to Harvest Rain on an Apartment Balcony
Hang an umbrella upside down from your balcony if your entire balcony is covered. Choose an umbrella with a hook at the handle that can be affixed to the railing or grate on your balcony. You will need to empty the umbrella frequently, so choose a non-permanent adhesive solution to attach the hook to your balcony. Duct tape wrapped around the base and hook of the umbrella is a simple solution.
Set up a rain barrel on your balcony underneath a portion of your balcony that is not covered by a roof or awning. These barrels can be purchased at most home supply stores. Choose a small barrel and empty it frequently. Large barrels take up unnecessary space on an apartment balcony and
Use a rainwater purifier if you plan to drink your rainwater. Although rainwater often tastes fresher and cleaner than tap water, it may contain harmful runoff and chemical pollutants. Inexpensive rainwater purification systems are readily available online and at some home supply stores.
What Is a Balcony Slab?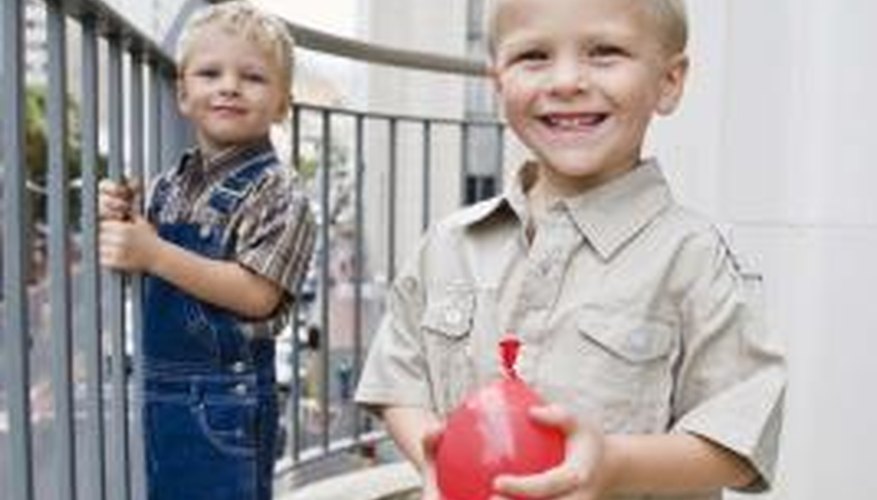 Overview
A balcony slab is typically 1 foot thick, and its surface area is in accordance with the builder's desired size of the balcony. Balcony slabs are often unfinished, resulting in a gray color, though it's possible to paint them to a color of your choosing.
Construction
Balcony slabs are made by pouring concrete into a special form made of wood or metal. When the concrete hardens adequately, the builder removes the form and is left with the large concrete slab. Because the slabs are too heavy to lift by hand, the builder uses a crane or boom stuck to lift each balcony into position on the building.
Mounting
Concrete slab balconies are typically mounted to the building in a cantilever style, meaning they are attached at the wall of the building but not elsewhere. As such, each balcony juts out from the building without mounting brackets below or retaining wire above. This style of construction is safe because the balcony is secured at the wall of the building and the wall also helps hold the balcony in place.
Styles
While concrete slabs are basic, the builder typically adds accents to make the balcony functional and stylish. Building codes require balconies on apartment buildings to have railings, and railings are often made of wrought iron, wood or glass. Some apartments have concrete slab balconies outside the living room or bedroom, while others use a long balcony that is accessible through doors in each room.