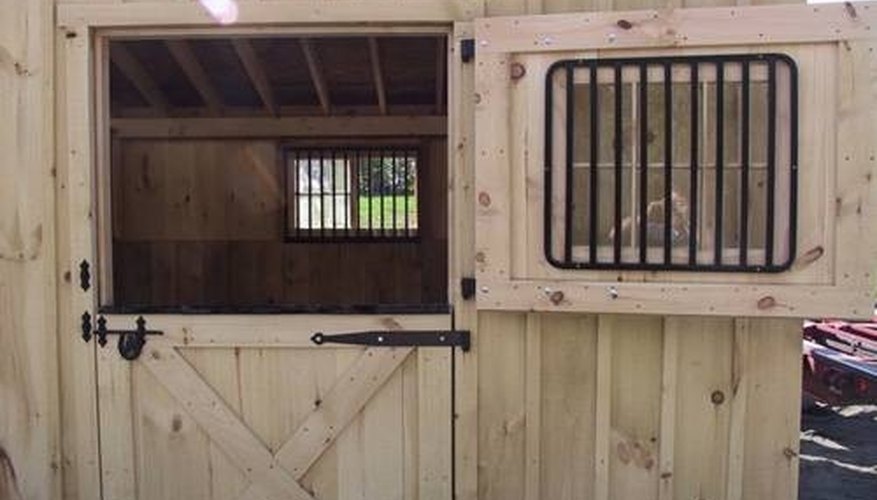 Dutch doors are a beautiful addition to your barn. The framework on Dutch doors is eye-catching, and their use guarantees better ventilation in your barn. Creating them is a bit more difficult than simply hanging a common barn door. But it is well worth the trouble to view the final result.
Measure your lumber. Your Dutch door should be a minimum of 4' x 7'. Use a solid wood that is treated. Never use anything less than 2" x 4" lumber, and the larger sizes, such as a 2" x 6" are even better. The top part of the door should be three feet high. The bottom should be four feet.
Assemble the bottom and the top of the door. Begin by creating a frame. Using heavy-duty screws and wood glue, create the square frame of the top and bottom of the door. These are assembled separately. Use a level and make your frames absolutely square.
Fill in your frames with your slats. Again, make sure they fit solidly and use appropriate hardware that will hold up to hard use. When the doors are filled in, create your "X" frame over the front of the bottom half of the door. Use screws to secure the "X" frame securely onto the underlying slats.
Hinge your doors. Use heavy-duty hinges that can hold more than 200 lbs each hinge. Two are a minimum. Measure before you screw them in so that they are equidistant from each other and align perfectly with upper and lower doors. This is also the time to apply the closing mechanism for your doors, both top and bottom.
Hang your door so that it aligns exactly to open and close properly. Wood swells with moisture, so it is important to allow a small amount of space between top and bottom doors to allow them to move easily in any weather. Use your level to hang them and measure, measure, measure.
Things You Will Need
Lumber Paint Power tools Measuring tape Nails
Tip
Be slow and deliberate in your actions. Better to take the time to do it properly than to mess it up and have to begin again.
Warning
Always use care when using power tools. Follow instructions carefully, and use gloves, safety goggles, and other protective gear when necessary.