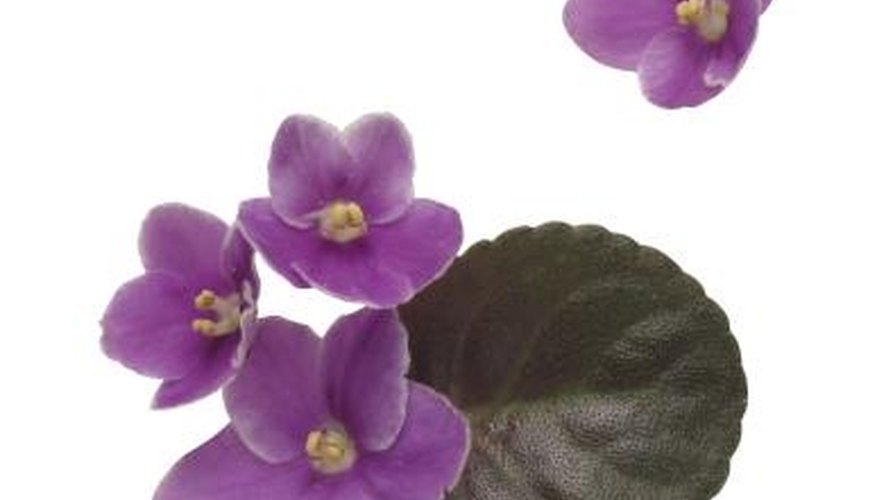 How to Cure White Powder on an African Violet
African violets are susceptible to powdery mildew, a white fungus that may be any number of species of fungus. It spreads across the leaves and petals of African violets when they are in an area with very low air circulation. This typically occurs when they are crowded with other plants or stuck in a corner. While they can topple next to a gusty window, an area with moderate ventilation and good spacing between plants -- and between the individual leaves -- will help prevent future problems with powdery mildew or other pests that thrive in low ventilation.
Ensure proper diagnosis of powdery mildew. Powdery mildew starts as powdery white or gray patches or circular areas, then spreads to the entire surface of the leaf or petal. Ambient dust would coat the entire surface of the plant evenly.
Correct cultural problems encouraging the growth of the fungus, such as growing the African violets in areas with cool, moist, stagnant air. Remove infected leaves that are weak or that have already shed, and space plants for better air circulation. Cut away such leaves with sharp, disinfected scissors. Move African violets to an area with better ventilation.
Apply a fungicide if the infection persists after cultural remedies have been applied. Powdery mildew, though primarily a cosmetic pest, also weakens the plant and makes it inefficient. Ensure that the fungicide you apply is effective against powdery mildew and is safe to use on African violets. This information should be on the label.
Clean all implements used on infected plants with rubbing alcohol and a clean cloth. This will help prevent the spread of powdery mildew.
How to Use African Violet Pots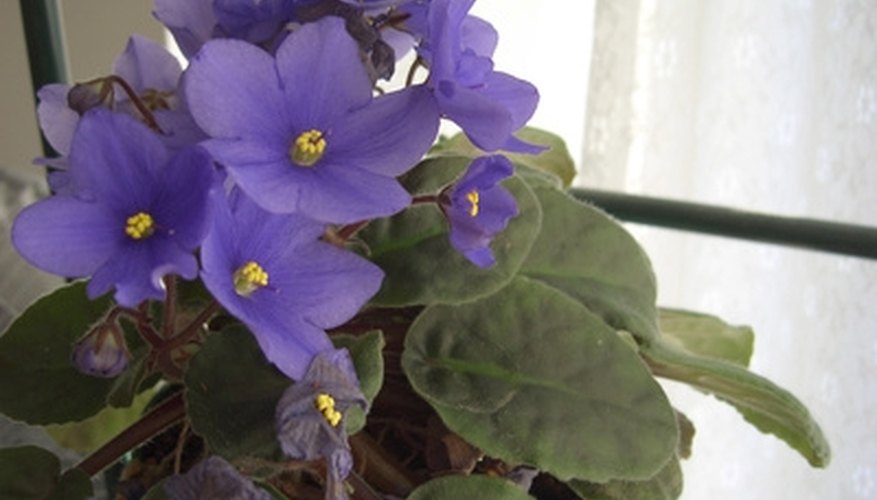 Touch the soil to see if it needs irrigation. If it is dry, it is ready to water. If it is moist, it does not need to be watered.
Fill the bottom section of the African violet pot with room temperature water, if the top of the soil is dry. Don't use house water if it is treated with a soft water system; instead, fill with untreated water from the outside garden hose.
Set the plant container (with the African Violet) on the water pot. The plant will drink up the water from the bottom of the container.
Remove the plant pot from the water when the soil feels moist. Discard the water. Repeat when the top soil feels dry again.
Transplanting African Violets
How to Split African Violets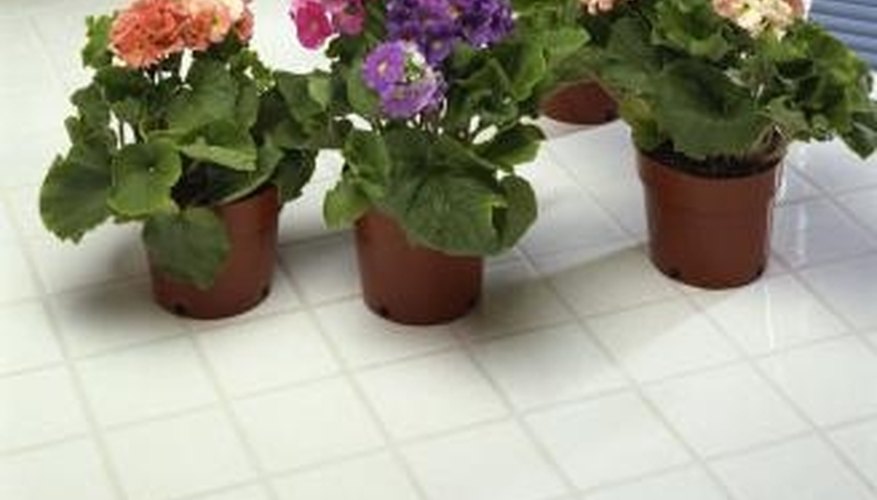 Hold off on watering and let the soil dry out a bit. It is easier to remove a plant from its container when the soil is slightly dry. It's also easier to remove the soil from around the roots.
Remove the plant from the container by turning it on its side and gently tugging on the plant. Tapping on the sides also helps, but you may need a knife to separate the soil from the container. Do this on newspaper or another surface you can easily clean.
Brush off the soil, removing as much of it as you can around the rootball so you can better see what you're doing.
Cut right through the root ball and crown of the plant, separating it into smaller plants. Use a utility knife, scissors or pruning knife. Each African violet section should have healthy looking roots and a healthy looking section of the crown and foliage. If your plant has more than one crown, divide the plant in between the crowns, rather than straight through it. Replant the new sections immediately.
African Daisy Fast Facts
Where to Plant
African daisies do best in naturalized areas like slopes, parking strips, and ground cover for large areas.
Sun Requirements
This herbous perennial needs full sun for proper growth.
Soil Conditions
African daisies need to be planted in dry soil as seeds since they cannot handle the stress of transplantation.
Upkeep
Removing old leaves and flowers will keep the plant disease-free. A regular monthly fertilizing will keep regular blooms.
Growing Season
Since flowers close on cloudy days and nights, blooms last longer than many other perennials. African daisies bloom from April to August.
How to Prune African Daisy Ground Cover
Tip-prune young plants by removing the soft new top growth down to the second set of leaves. Pinch the soft foliage with your fingernails; it will come off easily. Continuous pinching of the new growth will keep the young plants bushy and full.
Prune older plants with bypass pruners, removing the side growth to the second set of leaves. This means that you will leave some of the old branches on the plant, but reduce the length. New growth will sprout from the pruned branches.
Mow large areas of African Daisy if they become woody or leggy. Set the mower blade to a high setting. This technique is best done when the plants are growing vigorously, usually in spring or summer.
How to Propagate African Violets
Select a large, healthy leaf from the plant you want to propagate and remove it.
Cut the stalk of the leaf down to approximately 1 1/2 inches long.
Dip the leaf stalk into a cup of water and then into rooting hormone powder. The powder will probably clump. Tap the stalk lightly so that a only a thin coating of powder remains.
Moisten a small pot of potting mix and insert the leaf into the pot about 3/4 of an inch deep. Insert the entire pot into a plastic bag and keep the leaf in bright but filtered light. Artificial light also works well for African Violet propagation.
Water the pot 7 to 10 days later, and from then on water just before the potting mix completely dries out.
Begin uncovering the plants when plantlets appear around the leaf. Uncover the plants gradually until they are completely out of the bag. Plantlets will begin appearing in approximately four weeks.
Pull new plants away from the leaf when they are approximately 2-inches tall and move them into separate pots. Leaves will produce up to four plantlets. The African Violet propagation process will take about two months.
What Flowers Grow Best Indoors?
Poinsettias
Poinsettias take the honor of being the most popular houseplant in the world. Colors range from red, pink, white and variegated. Poinsettias take dedication to produce flowers in the second year.
African violets
Violets like high humidity and bright indirect light. Violets come in a range of colors and variety. They are compact and will fit nicely on window sills.
Orchids
There are more than 30,000 species of orchids but most growers stick with the basic varieties. Although they are considered to be difficult to bloom, a careful grower can have success.
Begonias
Begonias are easy to grow and will yield an array of blooms. You can choose from a bushy variety or trailing. Begonias are normally considered to be an outdoor plant but they do wonderfully indoors as well.
Desert cacti
Cacti do not need much water and love the sun. They will bloom in the spring and summer.
Hibiscus
The hibiscus flower is not one for beginners. They like warmth, plenty of light and humidity. Their downfall would be that there are several varieties of bugs that are attracted to them.