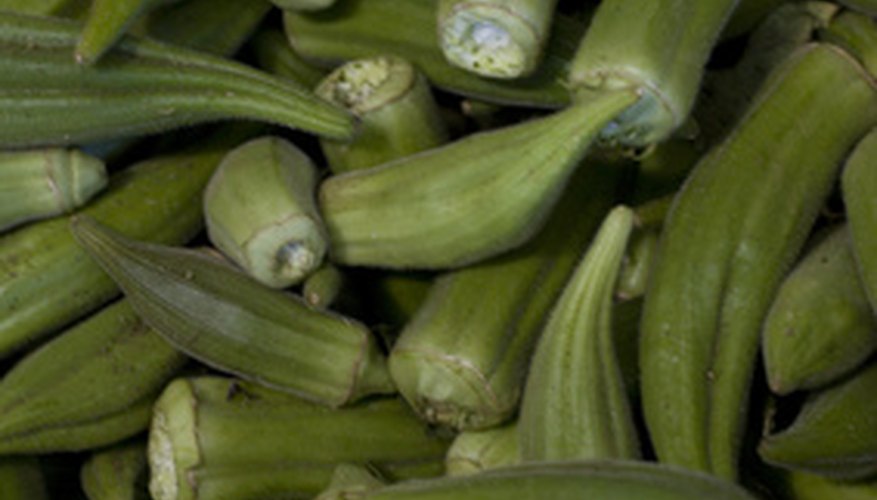 You may already be familiar with tropical vegetables such as okra, eggplant, sweet potato. These plants, which originate in tropical regions of the world, are grown in the southern United States as annuals. Growers typically plant them after the first spring frost. The plants die when exposed to the first frosts of fall. You can grow tropical vegetables almost anywhere outside the tropics, provided that the plants have at least two months to produce fruit and summer temperatures grow warm enough for plants to thrive.
Plant tropical vegetables outdoors in full sun after all danger of frost has passed and nighttime temperatures remain above 50 degrees Fahrenheit. For northern climates with short growing seasons, you can speed up the time between planting and harvest by starting seeds indoors, or erecting a polytunnel greenhouse around your garden.
Select heat-tolerant versions of tropical vegetables. Popular vegetables such as tomatoes have hundreds of varieties. Some adapt better to hot, humid weather than others. Three that are recommended by Texas A&M University's Extension service are Heat Wave, Sun Fire and Sure Fire.
Rotate vegetables as your temperatures change. Peppers will grow well in spring and fall before daytime temperatures climb above 90 degrees, while okra will grow best when nighttime temperatures remain above 55 degrees Fahrenheit and eggplant seeds germinate when temperatures are above 85 degrees.
Place soaker hoses around the roots of plants and water well in summer to prevent plants from drying out. Many tropical plants such as melons require ample water to produce fruit. Others, such as sweet potatoes, will not tolerate standing water around the roots. Standing water can cause plant roots to rot. A soaker hose helps to put the right amount of water into the roots while preventing runoff.
Harvest vegetables continuously to encourage vigorous production.
Select a balanced (10-10-10) liquid fertilizer to add to water during irrigation and amend well-rotted compost into the soil before planting. Do not place unfinished compost or fertilizer over the roots of the plants once they have become established. Microbes in unfinished compost can harm the roots of plants, and fertilizer can burn the plants.
Avoid using insecticides in your garden to repel pests. Vine plants such as beans and cucumbers rely on bees to pollinate. Instead, repel pests by planting companion plants such as basil, garlic or marigolds.