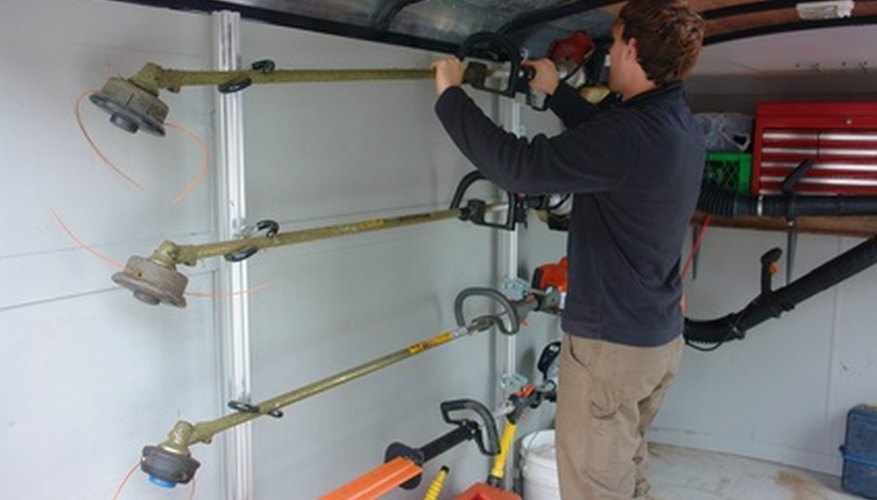 Echo manufactures one of the simplest trimmers on the market, but because of its simplicity, the trimmer spool is easily broken. Echo trimmers come with a tool to lock the spindle in place so you can replace the spool with little difficulty. There is no bump mechanism to contend with when replacing the Echo spool.
Disconnect the spark-plug wire from the spark plug. Turn the plate just above the trimmer spool, and line up the hole on the plate with the hole inside the shaft.
Insert the Echo locking tool into the shaft just above the trimmer spool. The locking tool is a round stem that looks similar to a dowel. Insert the tool into the hole on the side of the shaft to lock the spindle in place.
Remove the locking nut securing the trimmer spool to the spindle with a 9/16-inch socket. Turn the locking nut counter-clockwise, then remove the nut and the washer below the nut of the spindle.
Pull the trimmer spool off the spindle with your fingers. There is a large washer that fits between the line spool and the trimmer head. Remove the washer from the spindle or from inside the trimmer spool if it came off with the spool.
Place the large washer inside the top of the new trimmer spool, then place the spool over the spindle, with the washer side pointing toward the trimmer head.
Place the locking washer and locking nut over the threads on the spindle, and twist the locking nut until it is hand-tight. Turn the locking nut one full turn with the socket wrench.
Remove the Echo locking tool from the trimmer, and place the spark-plug wire back onto the spark plug.