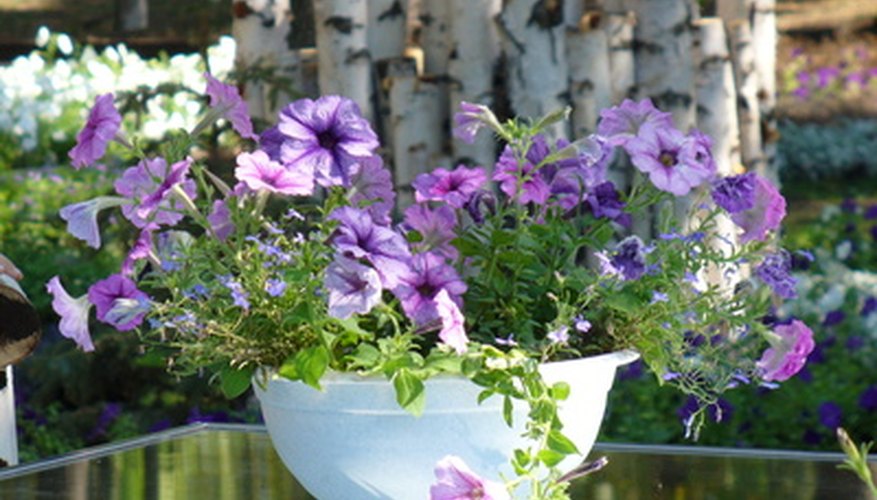 Pot with flowers 1 image by Oleg Gubanov from Fotolia.com
For the gardener who dislikes gardening, flower pots are an excellent alternative. Some homeowners might love flowers, but don't want to crawl around in the dirt to plant them. Flower pot gardening eliminates the time required to dig up a flower bed, prepare the soil, and keep up with the weed invasion.
Geraniums
Many grandmothers grew pots of annual geraniums on her porch or patio. The easy care and nostalgic touch of these flowers make them a good candidate for pots. Purchase potting soil, a terracotta pot, and a multipurpose fertilizer from any garden center and plant. Geraniums come in reds, pinks, white and multicolor. The upright variety grows to 1 foot tall, and the ivy-leaved variety can trail up to 2 feet.
Gerbera Daisies
Gerbera Daisies in their striking colors of red, yellow, orange, and pinks, are especially beautiful set out in pots. Pot them in spring, set out in the sun, and they'll bloom until fall. Plant in potting soil with a multipurpose fertilizer purchased at a garden center. Keep gerbera daisies moist in hot weather.
Tulips
Tulips are beautiful in fields of mass plantings of the same color, but they also make lovely potted plants. In spring, potted tulips are frequently given as gifts. Tulips will grow nicely with a multipurpose potting soil, but special potting soils for bulbs are also available. Plant five to six tulip bulbs in a 6 inch pot. Tulips don't need fertilizer because they already contain the nutrients they need to produce flowers.
Petunias
There's rarely a flower bed in the country without petunias during spring and summer. However, they also look lovely in flower pots. Plant them alone and they'll grow to drape over the sides of the pot in a profusion of flowers. Regularly deadheading (removing spent blooms) keeps the plant dense and flowering. They tend to get scraggly looking during the intense heat of mid-summer. Cut back the plant at this time, and it will reward you quickly with new growth. Petunias come in pinks, reds, blues, purples and white. Striped petunias are also available.
Marigolds
Marigolds dress up flower beds as border plants, and they also make excellent container plants. These easy to grow annuals like moist soil and full sun. Keep marigolds blooming all summer long by deadheading spent blooms. As with all potted flowers, plant in fresh potting soil, with a multipurpose fertilizer.
Verbena
Trailing verbena grow 6 to 12 inches in length and do well in pots as companion plants to other flowers. Plant verbena in the same pot with petunias for a striking display. Clusters of flowers bloom in colors from reds, yellows, pinks, peach, and raspberry to white. This annual flower blooms from June to September. Plant in fresh potting soil with a multipurpose fertilizer.