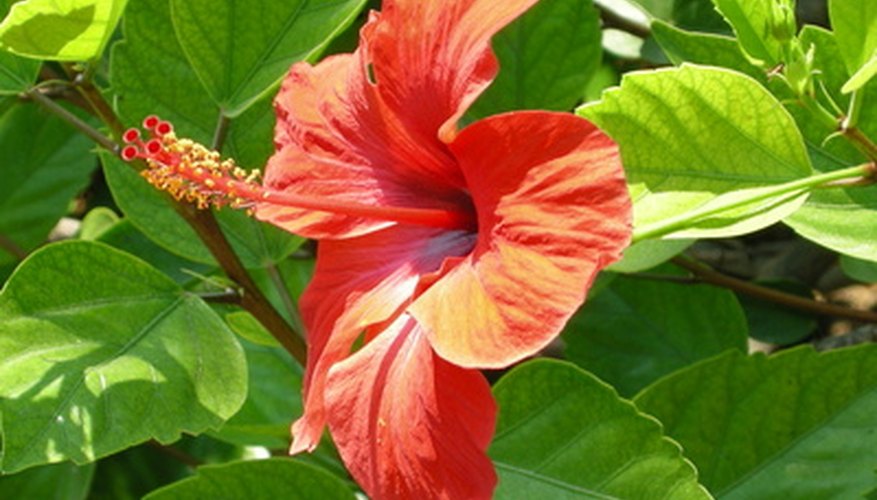 Hawaii is the essence of exquisite, tropical beauty. It is home to the world's tallest sea mountain, the only royal palace on United States soil, and one of the world's most active volcanoes. Of the scores of natural wonders to explore on the Hawaiian Islands, the thousands of species of thriving plant life are as diverse as the lush, ambient islands that they inhabit.
Hibiscus
Hibiscus originally hails from Asia and the Pacific islands. Of the many varieties of hibiscus found on the Hawaiian Islands, it is believed that only five species were originally native to the land. These flowers thrive in the consistently warm and moist soil of the Hawaiian tropics. They grow wild in shades of red, pink, yellow, and bluish tones. The delicate blooms may be either single or double. The yellow hibiscus (hibiscus brackenridgei), also known as the pua aloalo, became the official state flower of Hawaii in 1988. Hawaiians have considered the hibiscus, in all colors, the official territorial flower since the early 1920s.
Lokelani
Lokelani is an intensely fragrant flower that grows naturally on the Hawaiian Islands. It is a native of Asia that was originally introduced to the islands in the early 1800s. Lokelani is a rare tropical plant that flourishes in the dense tropics of the islands. The small, pink lokelani (Rosa damascena), also known as the pink cottage rose, is cherished by gardeners for its exquisite beauty and scent. The lokelani is the official island flower of Maui, one of the 6 main Hawaiian Islands.
Ilima
Ilima (Sida fallax) is the official territorial flower of the island Oahu. Ilima is a low spreading shrub that bears tiny, pale green leaves. The small flowers grow in shades of orange, red, brown, and yellow. Early Hawaiians used this flower to make medicine, and the juice from the pressed flowers was sometimes given to children. Pregnant women sometimes ate the flowers. The yellow ilima is a very popular Hawaiian flower, and it is commonly used in making leis. The blooms of the Hawaiian ilima plant resemble small hibiscus flowers.