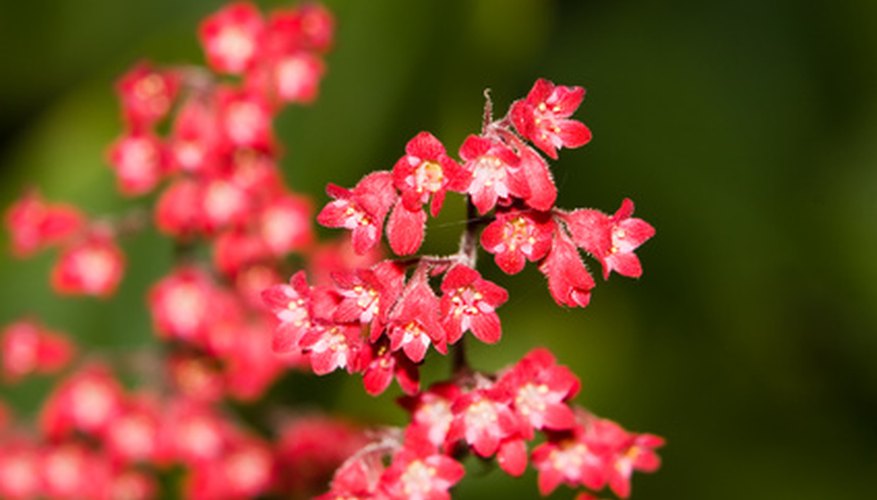 Heuchera coral bells have risen from unassuming, green-leaved, shade-tolerant plants to become staple garden perennials. The surge in their popularity has resulted from the many dazzling foliage colors and larger flowers of the hecheura varieties now available, according to l'Lee Hooker of the University of California Marin County Cooperative Extension. Even after their spring or summer bloom subsides, coral bells' foliage has gardens aglow with hues to enhance any color palette.
Heuchera Chocolate Ruffles
Like most coral bells varieties, Chocolate Ruffles is hardy to minus 30 degrees F and tolerates full sun--only with consistent moisture--to partial shade. Named a Missouri Botanical Garden Plant of Merit, Chocolate Ruffles stands 1 to 2 feet high and up to 18 inches wide. It has round, 3- to 5-inch lobed leaves on long stalks (petioles). Its coppery new foliage has tightly ruffled edges that open up as the plant ages. Mature foliage ranges from the purple to chocolate. In May or June, its thin, graceful red stems have small, white bell-shaped flowers.
Heuchera Pewter Veil
Heuchera Pewter Veil has a 12-inch high clump of scallop-edged, lobed, round 3- to 6-inch leaves. Opening copper-pink, they developed purple-veined, metallic silver surfaces and pink undersides. A summer bloomer, Pewter Veil has purple-shaded white blooms in June and July. Flowering plants stand up to 2 feet high, according to the Missouri Botanical Garden.
Heuchera Peach Flambe
A warm-hued heuchera patented in 2006, Peach Flambe brightens the spring and summer garden with red-accented peach foliage. Its leaves take on hints of plum in autumn, notes the Missouri Botanical Garden. Smaller than many of its relatives, Peach Flambe stands 7 inches high and up to 14 inches wide when not blooming. Plants with stems of white, June and July blooms reach 18 inches.
Heuchera Marmalade
Heuchera Marmalade brings a foretaste of autumn to the garden. Its June and July, reddish-brown blooms top an 8-inch mound of amber and russet leaves, according to the Missouri Botanical Garden. Spreading as much as 16 inches, Marmalade is reportedly more resistant to powdery mildew than many heucheras.
Heuchera Creme de Menthe
Dolce Crème de Menthe, a green variety hardy to minus 20 degrees F, has refreshing, silvery mint-green leaves with darker green veining. They make an appealing backdrop for the pink June and July flowers rising up to 8 inches above its 8-inch-high,12-inch-wide foliage mound. Patent pending Crème de Menthe blooms in June or July, advises the Missouri Botanical Garden.