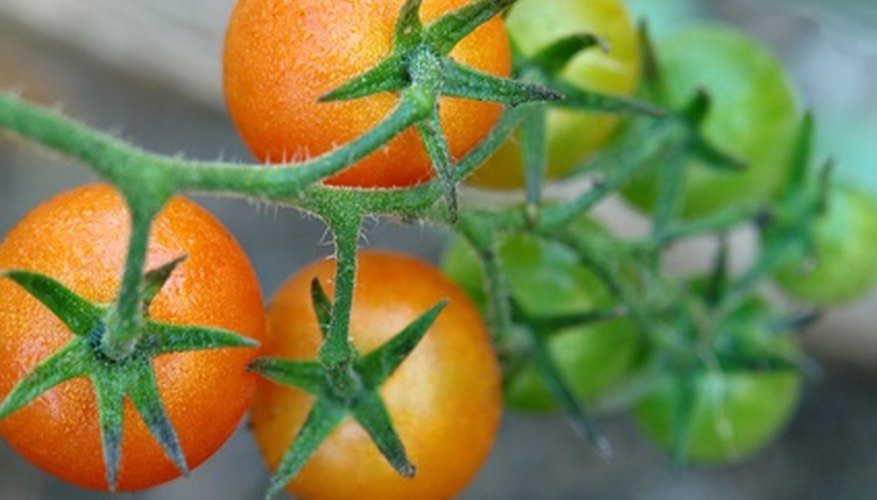 Cherry tomato plants produce juicy red fruits no larger than the size of a golf ball, but varieties called "grape tomatoes" are known to produce even more prolific clusters of tiny fruits that are about the size of large grapes. Dozens of different varieties of grape tomatoes exist, but contact a local Cooperative Extension Office to learn of recommendations of varieties that have been grown and evaluated to perform best in your region's climate and soils. The University of California Cooperative Extension Service conducted trials on more than 30 different varieties of grape tomatoes and rated them on taste and sweetness.
Santa
The variety "Santa" is a hybrid tomato with origins in Taiwan in 1996. The red skin of these grape tomatoes is smooth and tough, making them ship well as well as have a longer shelf life.
In the University of California Cooperative Extension's trials, Santa ranked high in overall flavor and sweetness compared to dozens of other varieties. The plant is known to produce trusses of fruits in clusters numbering as many as 30.
Ruby
Also producing trusses of small red fruits in grape-like clusters numbering up to 30, "Ruby" is a vigorous growing selection of tomato.
In fact, the fruits are so small that some tomato breeders/growers may call them "currant tomatoes," referring to a size that is no larger than an American quarter coin. The University of California Cooperative Extension's trials found Ruby ranked high in flavor and sweetness, too.
Jellybean
Sweet in flavor, "Jellybean" is a vigorous plant with long vine-like stems that produces fruits in clusters numbering 15 to 30. Fruits have a firm texture and can bear either red or yellow fruits, and so are labeled as either "Red Jellybean" or "Yellow Jellybean" by garden seed companies.
This variety is exceptional for growing in large containers on patios and is a disease-resistant tomato, rarely affected by common tomato plant diseases such as wilt, rot and other fungi.