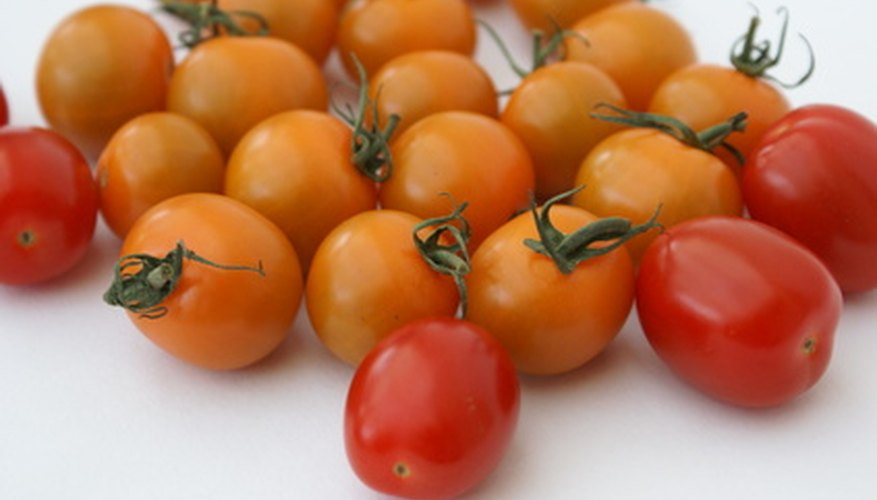 Yellow cherry tomatoes & red plum tomatoes. Diversity image by L. Shat from Fotolia.com
The hundreds of tomatoes available to gardeners base their distinction on several factors, including disease resistance. Common diseases that infect tomatoes include verticillium and fusarium wilts that spread through the soil causing yellow leaves, wilt and death. Other diseases include tobacco mosaic virus, alternaria stem canker and gray leaf spot, all of which spread by various measures and cause blemishes, lesions, discolorations and often death. Some varieties of tomatoes prove more successful in disease resistance than others.
Neptune
"Neptune," a determinate variety bred specifically tolerate hot, humid conditions and to resist diseases such as bacterial wilt matures within 67 days. Fruits weigh around 1/4 pound and grow in clusters of two to four along 1- to 3-inch long vines. "Neptune" is resistant to verticillium wilt and fusarium wilt. "Neptune" was developed in 1999 by Dr. J. W. Scott at the University of Florida's Gulf Coast Research and Education center.
Brandywine
"Brandywine," an indeterminate 1885 Amish heirloom, produces large (up to 1 pound) pink-red fruit in 80 days. Meaty, intensely flavored fruits grow along sprawling vines. "Brandywine" shows greater disease resistance than most heirlooms, with resistance to tobacco mosaic virus and verticillium wilt. It first appeared in the Seed Savers Exchange collection in 1982.
Rutgers
"Rutgers," a bright red tomato bred in the 1920s, is a determinate variety that matures within 75 days. Rutgers resists cracking and shows disease resistance to alternaria stem canker, fusarium wilt, gray leaf spot and verticillium wilt. "Rutgers" is most often used for canning because of its high production and juicy texture.