Centerpieces decorate the center of a table at a party, formal sit-down dinner or holiday meal. A designer will arrange the flowers, fruit, vegetables and other components to allow seated guests to have comfortable conversation. A centerpiece for a round table will be viewed from every place setting. It is constructed in a mound, half-ball or round shape. A footed compote gives additional height to a more formal floral arrangement. The centerpiece for a sit down dinner should be no higher than 12 to 18 inches in height.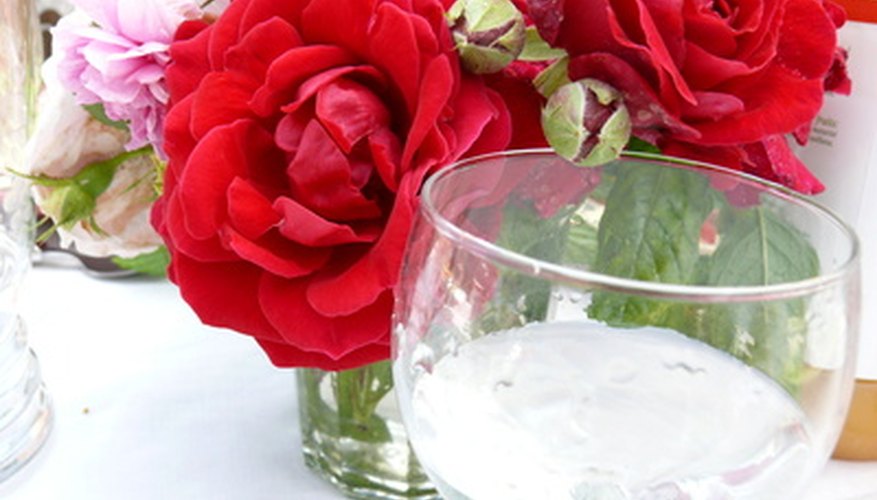 Slice the foam with a knife to fit the centerpiece container. Insert it into the dish or basket. Secure with waterproof adhesive floral tape.
Pour water on to the foam until it is saturated. Cut small pieces of greenery and place sprigs of it into the center and outside of the foam edge.
Cut a peony or hydrangea, and insert the stem down into the center at the maximum height for the arrangement.
Insert an even number of peonies or hydrangea blooms around the outer edge of the foam in the oval or circular shape. Place the stems in at an angle toward the center. The flower heads should be 1 1/2 to 2 inches shorter than the center flower.
Cut the roses or carnations at an angle. Insert the stems in between the peonies or hydrangea blooms.
Turn the arrangement to view it from all angles. Look for empty space. Insert sprigs of caspia, baby's breath or asters between flowers and in empty spots. Add additional greenery to finish off uneven areas.