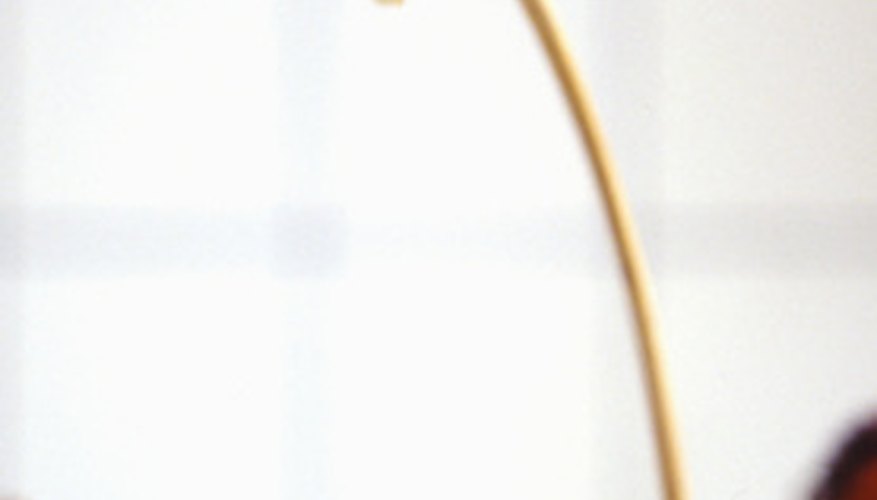 Although fresh flowers add color to a spot and enhance its appeal, many people prefer to use dry flower arrangements. Dry flowers, also called dried flowers, have several advantages over their fresh counterparts--they last longer, are cheaper and maintenance-free. A vase filled with dried flowers adds character to a room. Hang flowers upside down in a dry room for two to three weeks until they are dry, and then use them to add subtle color to a strategic spot inside your house.
Spread all the dried flowers in front of you. Remove those with damaged or crumbled blooms or petals and discard.
Lift three to four flowers and arrange the blooms in a triangle or square respectively. Select the larges blooms as these form the central or focal flowers of the arrangement. Grasp the stems firmly to prevent the flowers from shifting.
Lift a dry flower and add it to the central flowers at an angle. Position its bloom ½-inch lower than the focal flowers. Also add three more flowers around the focal flowers, in turn. Keep the blooms of these filler flowers in level with the previously inserted flower, but lower than the focal flowers.
Insert two to three more flowers to the arrangement, adding their stems at an angle so the arrangement begins to form a dome-shape when viewed from the top. Add the rest of your dried flowers, keeping them lower than the central ones. Grasp the stems firmly as you add flowers to your arrangement.
Add foliage around the flowers, if you desire. Foliage helps frame the arrangement and provide contrasting color so the flowers stand out. Depending on personal taste, use leaves such as ferns or tiny accent foliage such as baby's breath. Add the foliage all around your flowers, or on any two sides.
Readjust any flowers, if necessary. Make any final adjustments before winding a length of floral tape or elastic band four inches below the blooms to join all the stems together. Also wrap a length of decorative ribbon over the band to conceal it.
Stand the flowers next to your desired container to determine stem height. Snip excess stem length off. Lower the arrangement into the vase and display over the spot.
Things You Will Need
Dry flowers

Dry foliage

Floral tape

Scissors

Decorative ribbon

Vase
Tips
Handle dry flower carefully to prevent damaging blooms.

The elastic band keeps the flowers in place so they do not shift when inserted in the vase. You can also add colored marbles to the vase and insert the stems directly into it. The marbles hold the lightweight stems in place and prevent them from shifting.