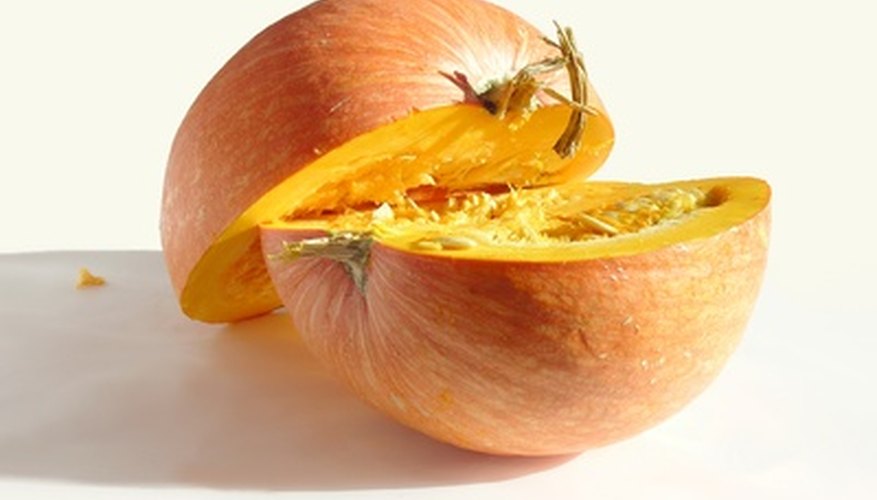 Around holidays such as Halloween and Thanksgiving, pumpkins are used as decorations and even for fun-filled activities such as carving funny faces to be lit up from the patio. You can use this leftover pumpkin for pumpkin bread (keep in mind you can do this with squash and zucchini as well) by turning it into a pumpkin puree at home and combining it with hearty spices to make the bread moist and decadent. For about two loaves, all you need is some simple baking materials and a sweet, fresh pumpkin.
Preparing Fresh Pumpking
Obtain a pumpkin that is suited for cooking, which should be sweet and smaller. Pie pumpkins are specific for this purpose and are sold at grocery stores from fall through winter. Look for one that is firm with no bruises. Prepare the pumpkin by washing the outside with warm water and patting it dry.
Cut the pumpkin in half with the knife. Scrape the insides with an ice cream scoop or large spoon to remove all of the pulp on the inside surface. Discard.
Chop off the pumpkin stem. Since you need the pumpkin to fit in the microwave, cut it into pieces if necessary or you can put it in whole. Add 2 inches of water in the large bowl, add the pumpkin, cover it with plastic wrap and place into microwave. Cook on high for 15 minutes or until soft.
Scoop the cooked pumpkin out of the skin with a spoon and place into a separate bowl. Make sure no skin is still intact.
Blend the pumpkin flesh with either a hand mixer, a blender or a food processor, depending on what you have available, until it is a smooth puree.
Making Pumpkin Bread
Preheat the oven to 350 degrees F. Mix together in a bowl the flour, soda, salt, cinnamon, allspice, nutmeg and sugar.
Add the eggs, water, oil and pumpkin puree to the bowl.
Mix thoroughly with a hand mixer. Pour into two 9 by 5 inch loaf pans that have been slightly greased and use a spatula to ensure the batter is even and filling all the corners.
Bake for about one hour. Remove and let cool for about 10 minutes in the pans. Carefully slide the loaf from the pan onto a cooling rack.