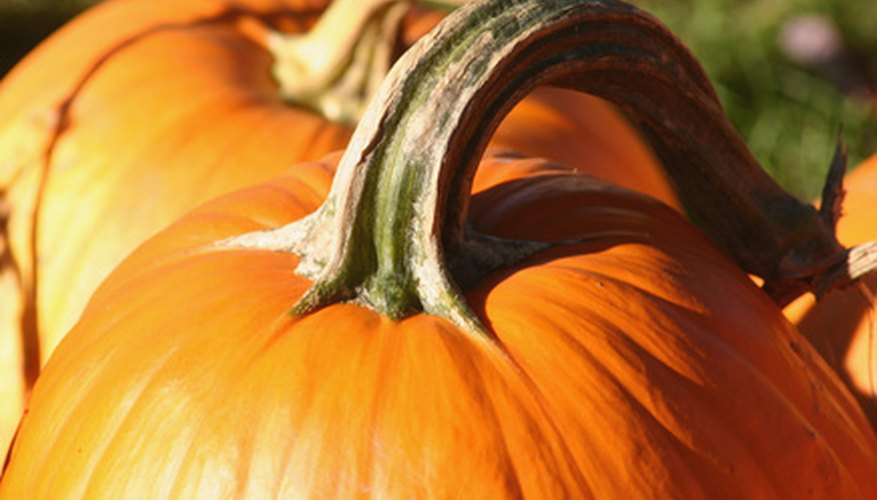 Sweet, thick slices of pumpkin bread made with brown sugar have a rich flavor, similar to a dense pound cake. The pumpkin in this bread adds vitamins, which chocolate cake lacks. And it has such a rich taste, you might be tempted to serve it as a dessert.
Prepare the Pumpkin Puree
Place the pumpkin on a cutting board and cut it in half using a heavy knife to split the thick skin. Heat the oven to 400 degrees Fahrenheit.
Scoop out and discard the seeds from the middle of each of the pumpkin halves using a spoon or a grapefruit spoon with serrated edges.
Place the halves on a baking pan and roast in the oven for 40 to 60 minutes or until tender.
Scoop the cooked pumpkin flesh away from the shell with a spoon and deposit into a cheesecloth-lined colander.
Drain the pumpkin in the colander set over a bowl overnight. Discard the liquid from the pumpkin.
Puree the pumpkin in a food processor until smooth. Set 1 3/4 cups of this pumpkin puree aside for the pumpkin bread. Place the rest in the freezer or refrigerator for use in other recipes calling for pumpkin puree.
Prepare the Pumpkin Bread
Preheat the oven to 350 degrees and spray the inside of a 9 by 4 inch loaf pan with cooking spray.
Stir together the all-purpose and whole-wheat flours, baking powder, salt, baking soda, cinnamon, cloves and nutmeg in a bowl.
Mix together 1¾ cups pumpkin puree, vanilla extract, eggs, applesauce, vegetable oil and brown sugar in a separate bowl.
Add the dry ingredients by thirds to the wet ingredients, stirring to completely incorporate the ingredients after each addition, and fold in the crystallized ginger into the pumpkin bread batter.
Transfer the batter to the prepared loaf pan, and bake at 350 degrees for 60 to 70 minutes or until a knife comes out clean when inserted into the center.