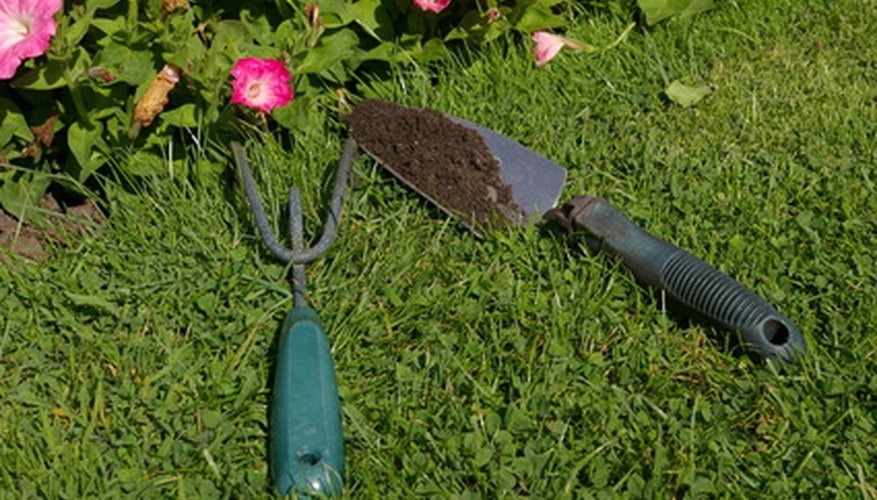 Staring at an empty garden space can be a bit daunting for even the more advanced gardener. What do I need? How do you choose plants? Should I go with a theme? Just where do I begin? Gardening of any type starts with some simple basics--master them and you'll move up from novice status in no time.
Preparing Your Soil
Understanding the type of soil on your property and how to improve it is the most important step of gardening. While some plants can thrive in less than optimal soil conditions, most prefer a loose, nutrient-rich, well-draining soil.
Start by collecting a soil sample from your garden area. Collect your sample free from mulch from an area devoid of decaying plant matter and leaves. Using a hand trowel cut straight down into the soil and retrieve a sample about 3 inches deep. Place in a clean, plastic container to transport to your local cooperative extension office or full-service garden center for testing. The test should cost just a few dollars, if anything, and should be done at the start of every growing season.
Purchase amendments as suggested by the test results. These will likely include manure or compost, sand, peat moss, or other materials to improve the pH balance, drainage and nutrient content of your soil. Work amendments into the soil one at a time by turning over with a spade until the garden soil is a loose, powdery consistency. You may wish to add a slow-release fertilizer per the packaging instructions as well.
Sunlight
Consider carefully the amount of sunlight your garden area receives and at what times. Plan your garden in accordance with your sunlight. Some flowers require full sun that means 8 or more hours a day while others need none at all, leaving many others somewhere in the middle. Study plant tags at your local full-service garden center and ask questions about the best choices for your sun exposure.
Choosing Plants
Choosing plants can be the scariest part with so many choices. Consult garden magazines, online resources and visit public and friend's gardens for; don't be afraid to ask questions and take notes and pictures of plants that catch your fancy.
Basic garden design is threefold--focal plants, filler plants and edging/border plants. Focal plants are those that draw attention to a garden--unique trees, flowering shrubs, tall perennial and annuals with distinct blooms, all can act as focal plants depending on your garden size, sun and personal taste. Filler plants are those abundant bloomers that fill in and compliment or contrast your focals, and edgers are low-growing plants that border beds and spill into walkways.
Consider perennial flowers--especially those native to your zone--as the backbone of your garden. Not only do they grow back bigger and healthier every year, they also provide food and shelter to insects and wildlife as well as need less water and fertilizer. Add annuals in containers or scattered throughout the garden for added color for one season.
Adding Flair
Personalize your garden with fun elements such as rocks, birdbaths and other decorative items that show off your personality. Don't go overboard with one element, one whimsical statue will have greater impact than an abundance of small elements.
Upkeep and Care
Mulch your garden, once planted, to prevent weeds and help retain moisture. Use a quality mulch a couple of inches thick for best results.
Give your garden water regularly, if needed. Annuals will probably need to be watered more often than the perennials as their root system stays shallow and you will want your perennials to develop stronger roots by forcing them to grow in search of moisture.