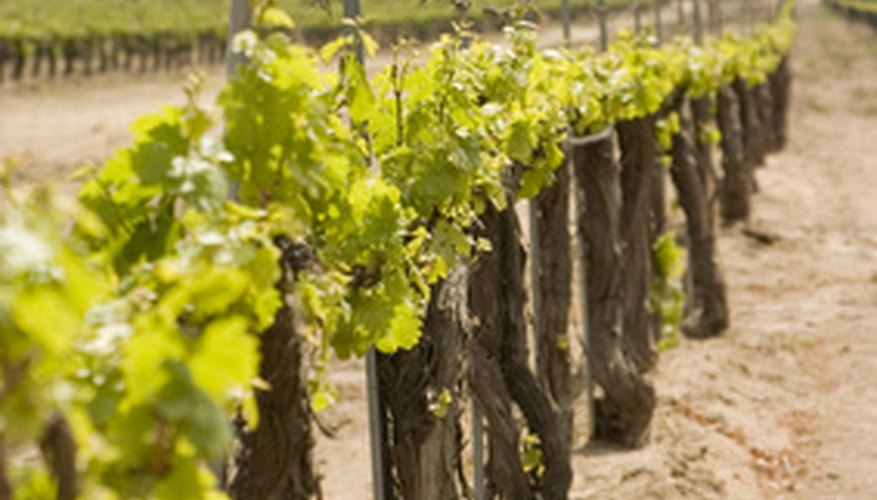 A grapevine is beneficial to the home garden for several reasons, whether you want the fresh fruit harvest for wine or jams, or you like the aesthetic beauty of climbing vines on your property. One grapevine can produce many bushels of grapes every year, but it is usually recommended to plant two together on a trellis. Planting a grapevine is fairly easy, but it is important to start trellising the plant from an early stage.
Prepare the soil in a location outdoors that has well-draining soil incorporated with loam as soon as the soil can be worked in the spring. On a southern slope is ideal, in full sun.
Use the mallet to hammer the posts about 12 inches deep into the ground, allowing 10 feet between posts if you have multiple plants. For one plant, use two posts.
Run the mesh wire across the front of the posts, keeping a tight secure grip. Once the mesh is tightened over the post secure it with the wire ties to the post.
Dig a hole 10 inches deep and 12 inches wide at one end of the mesh trellis.
Trim your grapevine plant to remove all but the most vigorous cane with pruners. Cut back the remaining cane to one or two healthy looking buds. Each bud will develop into a cane, according to University of Minnesota Extension. Trim away and broken or unhealthy roots as well.
Put the grapevine's root ball into the hole, shaking the excess dirt from the roots before settling it in. The University of Minnesota Extension recommends spreading the roots out in the hole, being careful not to bend the roots. Backfill the hole with soil, firmly pressing it around the base of the vine. The vine should be at the same depth as it was in its nursery pot.
Water the ground generously at the base, saturating it completely daily for about two weeks. Decrease watering the plants to once per week after this.