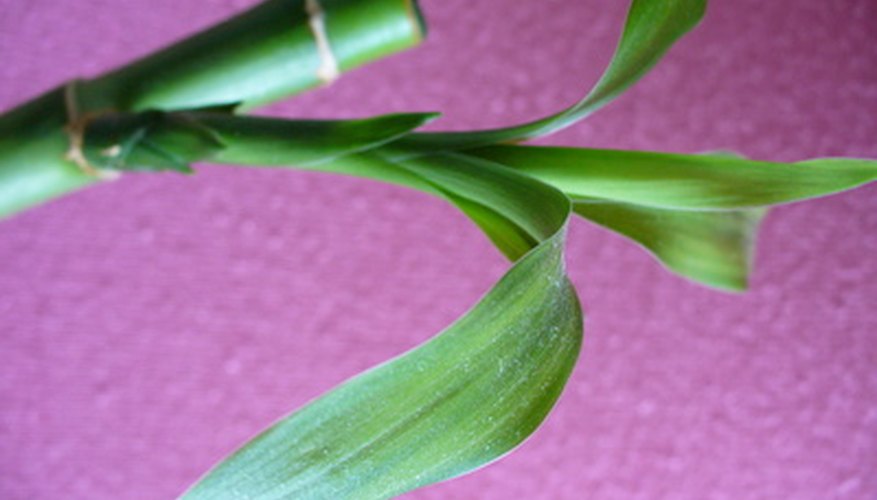 Bamboo cuttings are start new bamboo plants for your home or to share with a friend. Bamboo should not be cut when it is shooting, to prevent damage to the mother plant. Before and after shooting you can safely take cuttings from the parent plant. Bamboo is a fast-growing plant and adequate room is necessary for the plant to thrive. They enjoy being placed in the full sun with a high humidity and warm temperatures. Increase the survival rate of cuttings by taking them from a plant that is not more than three years old, according to Tearfund International. Begin transplanting as soon as the cuttings are taken to prevent shock and increase the rooting rate.
Choose a medium to large pot. Bamboo will outgrow a small pot in no time. Mix a potting medium suited for grasses and hardwood plants. Combine two parts sharp sand, two parts peat moss, two parts loam, a third part dried cow manure and one part humus in a planter for best soil results, advises Plant Ideas. Mix the ingredients well, filling the container to within 2 inches of its top.
Dig a hole in the center of the planter. Place the cutting into the soil, firming the soil around the base. Place the cutting deep enough that the majority is below the surface dirt with only half of the internode above the soil. The internode is the space between the ribs or nodes of the bamboo shoot. Each cutting should have two nodes and one internode for best results. Seal the top of the bamboo cutting with clay. Place a layer of clay dirt over the bamboo shoots top, sealing the hole, recommends Tearfund International.
Water generously until water drains freely from the planter bottom. Pour 2 cups of water into the top of the cutting, through the clay seal. Continue to water daily until shoots appear and the bamboo appears green.