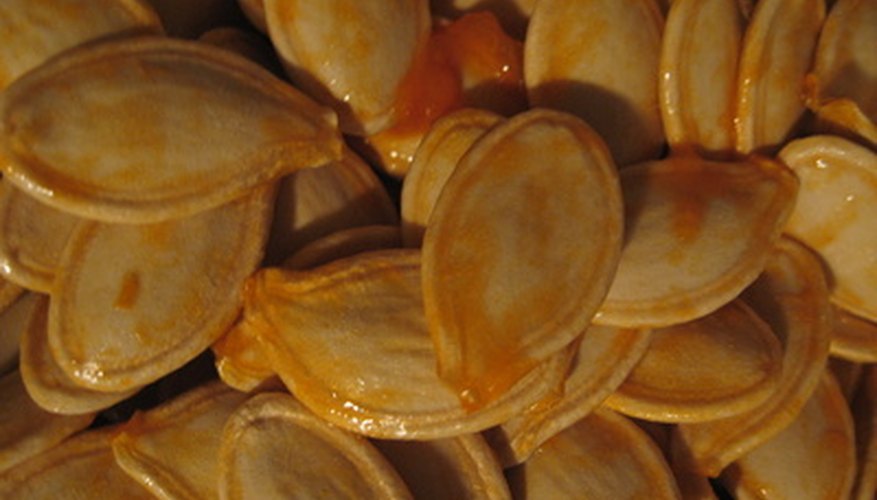 Pumpkins are actually a type of hard-shelled fruit, even though some think the pumpkin is a vegetable, according to the International Seed Saving Institute. You can grow your own pumpkins to make pumpkin soup and pumpkin pie, or you can sell them for decorations during the fall season. Saving your pumpkin seeds allows you to continue to grow healthy pumpkins year after year.
Choose some healthy, fully mature pumpkins from which to gather seeds. Taking seeds from an unhealthy pumpkin could result in a poor crop the next year.
Use a sharp knife to cut the pumpkin open at the top to reveal the seeds. Cut out a circle that goes around the stem so that the stem is in the center. You will then be able to lift the top right out.
Scoop the seeds out. This is easily done with your bare hands, but you can use a spoon if you want to. You may pull out some strings of pumpkin when removing the seeds. You will need to throw these away or they will clog up your strainer. You can do it as you remove the seeds by just pulling them away from the seeds, or you can wait until you have removed all of the seeds.
Set the seeds in a strainer in the sink.
Mix 1 tbsp. of soap with 1/2 cup of water in a small bowl, and pour it over the seeds. Start your faucet and toss the seeds under the faucet until they are clean.
Lay the seeds on a few sheets of paper towels and pat them dry as best you can. The seeds should be in a single layer so that they can dry properly.
Transfer the pumpkin seeds to a baking sheet or a clean window screen. Set them aside in a dark dry place for three weeks to dry out.
Place the seeds in a brown paper bag until you are ready to use them next year. You may want to write the date on the bag, as well as the type of pumpkin.