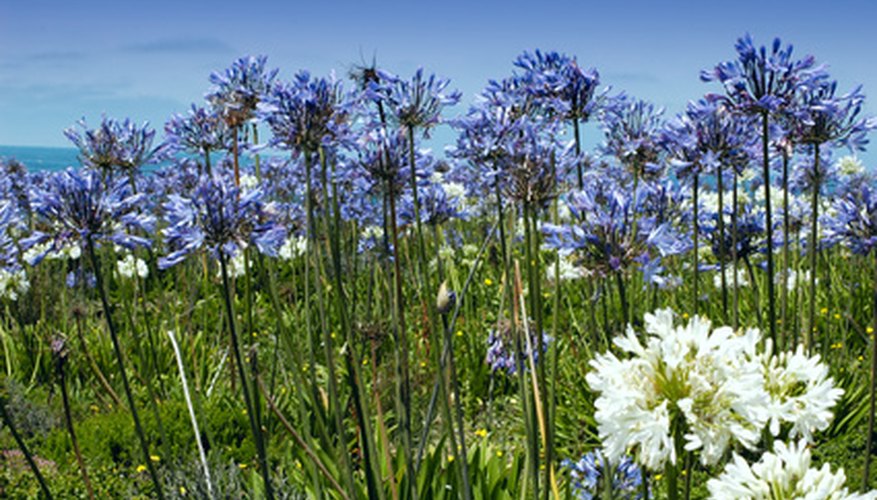 Agapanthus flowers are native to South Africa. Often called African lilies, these bulb flowers come in shades of blue, purple and creamy white, and can range in size from only a few inches tall to 4 feet or more. Agapanthus flowers grow best in United States Department of Agriculture (USDA) Plant Hardiness Zones 9 through 11, according to the University of Florida. Plant these showy flowers in full sun or partial shade for best blooming.
Oriental
Agapanthus orientalis is a large agapanthus, reaching heights of 4 feet and widths of 2 feet. The flowers are usually true blue in color, although they can sometimes be pink or lavender. Still, this cultivar is a favorite among home gardeners who want a blue, summer-blooming flower. The leaves are slender, green and coarsely textured.
Lilliput
'Lilliput' features dark-blue flowers, but it is this plant's hardiness that makes it an excellent choice for many home gardeners. Unlike most agapanthus, 'Lilliput' can survive in climates as cold as USDA Zone 6, according to the University of Vermont. This slow-growing cultivar is smaller than most, however, reaching a maximum height of only 18 inches.
White Christmas
'White Christmas' is a very large, showy agapanthus. When not in bloom, this unassuming plant looks like a neat mound of vertical, slender greens leaves about 2 feet tall. When in bloom, however, the plant features 5-foot-tall stems topped with large globes of creamy white flowers.
Elaine
'Elaine' is distinctive in that it has evergreen leaves that do not die down in the fall and winter but remain lush and green throughout the plant's dormant period, giving the plant the appearance of a bushy shrub. When 'Elaine' is in bloom, it features 4-foot stems topped with dark, violet-blue clusters of flowers.
Blue Baby
The appearance of 'Blue Baby' is summed up in its name. These small, 15-inch-tall agapanthus plants feature very light blue flowers in the pastel shade that is often associated with clothing and other items made for newborn baby boys.