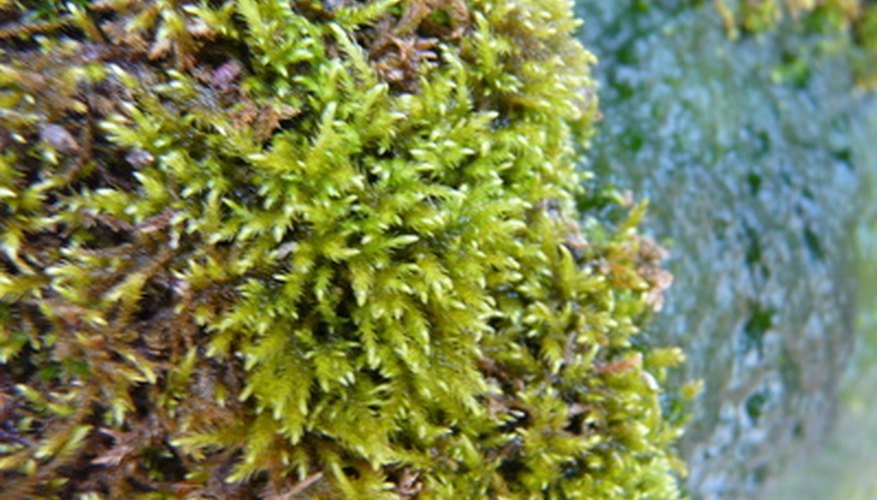 If you have patchy grass growth in the shady areas of your lawn, chances are you also have a problem with moss. Moss grows anywhere there is poor air circulation, low light levels and a tendency for the soil to retain moisture. These factors also contribute to weak grass growth. Because moss can't grow anywhere that grass is vigorous, weaker grass growth allows moss a chance to become established. Remove moss from your lawn and, to prevent it from returning, correct the problems that allowed the moss growth. Moss killer containing potassium salt or iron sulfate.
Spray moss killer that contains potassium salt or iron sulfate on the moss. These chemicals work by drying the moss. Wait for the moss to turn brown and dry before removing it.
Remove the moss with a rake. Moss grows in a dense, carpetlike mass and should come out from the soil in pieces.
Prune the canopy of trees or shrubs to thin branches and allow more light to hit the soil where the moss grew.
Improve drainage in the area by filling in low areas with topsoil and re-grading the location into a gentle slope with a landscaping rake.
Aerate the lawn area to make the soil less compacted and improve drainage. An aeration machine works similarly to a lawn mower in that it has a pull-rope starter and is pushed over the soil in sections. You can rent an aeration machine at a garden or equipment store.
Spread a shade-tolerant lawn seed such as fescue over the shady area. Use a broadcast spreader to distribute the seed evenly. Water up to four times daily with ¼ inch of water. You can use a weather rain gauge to measure. Gradually reduce the watering frequency until you water with 1 inch of water every 10 days.