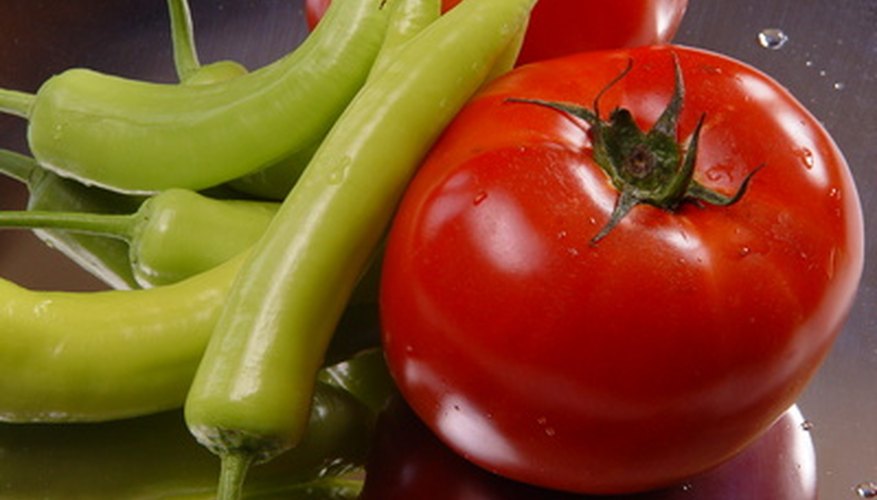 Growing your own vegetables provides you with the freshest possible produce at harvest time. Vegetables can be started in the home from seeds, and later transplanted outside to a vegetable garden when the weather warms, or into larger containers to grow. Planting vegetable seeds indoors not only saves you money from buying more costly vegetable transplants, it also offers a larger selection of vegetable varieties to choose from. Start vegetable seeds in your home four to eight weeks before the expected transplant date, suggests Texas A&M University.
Get the containers needed to start your vegetable seeds. You can use special seed-starter trays that may or may not come with the needed covers. Other choices include special pots made out of peat moss (which easily transplant directly into the final location with less stress on the vegetables) or any type of container you find that provides drainage and is 3 to 4 inches deep.
Add the growing medium to the selected trays. Compact the soil, and level it to ¼ inch from the top of the containers. Make two or three holes in each seed-starter pot, or more for larger containers. Use a pencil (or stick) to make the holes at the depth suggested on the vegetable seed packets. This is typically either ¼ or ½ inch deep.
Put one vegetable seed in each hole. Cover the vegetable seeds lightly with soil. Mark the containers with (or make note of) the date planted and the type of vegetable seed planted, if you grow several types.
Use a spray bottle to dampen the soil without disturbing the newly sowed vegetable seeds. Place the tray cover (or a piece of plastic) over the containers to hold moisture inside. Place the container or seed trays in a warm location. Check daily for signs of germination, and mist with water to maintain moist conditions (if needed).
Remove the cover when vegetable seedlings emerge. Place the container in direct sunlight or beneath fluorescent lights.
Thin the amount of growing vegetable seedlings to one per pot, or space the seedlings at least 1 or 2 inches apart. The Vegetable Guru suggests doing this when the seedlings develop a second set of leaves. Pinch or cut the seedlings at the soil level instead of pulling the seedlings out, which could damage the roots of the other vegetables growing.
Apply a starter fertilizer, such as 5-10-5 to the vegetable seedlings. The University of Minnesota suggests mixing 1 1/2 tbps. of fertilizer with 1 gallon of water, and to supply every growing vegetable with ¼ cup every 14 days until transplanted in a permanent location. It is also recommended to follow this application with a soaking of water to avoid burning the seedling's leaves.