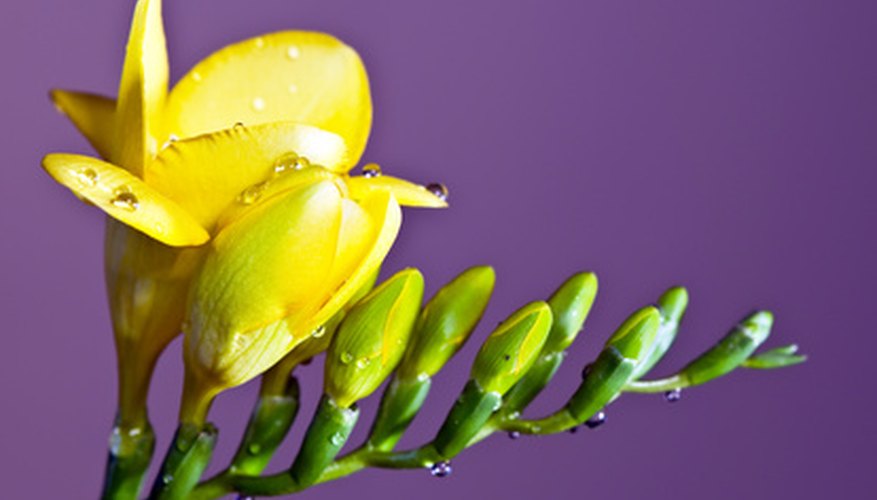 Rich fragrance is the hallmark of freesias (Freesia), which produce a delicate, trumpet-shaped bloom on a single stem. Multiple blooms will appear along a flower spike. The fragrance is used in bath products and perfumes. Plants with white and yellow blooms are the most fragrant. These colors are most common, but Dutch hybrids are also available in blue, lavender, orange, pink, purple and red.
Ambassador
The "Ambassador" cultivar was the top-selling freesia at Dutch auctions in 2006, according to the Flower Council of Holland. This cultivar produces large white blooms. Stems on the "Ambassador" cultivar are particularly sturdy and long, and plants may be more than 2 feet tall.
Pink Fountain
This Dutch hybrid cultivar produces a bright pink double bloom on a long, slender stem that can reach 2 feet. Plants bloom in winter and fall and yield many flowers. These plants are fast-growing, but are susceptible to fusarium, a fungal disease.
Red Beauty
A newer cultivar, the "Red Beauty" has a heavy, sweet fragrance that is noticeable only when the bloom is open. This plant, which is a Dutch hybrid, produces double blooms in a deep red with yellow highlights near the base of each petal. "Red Beauty" freesia is a slow grower that flowers in fall and winter.
Alba
This heirloom cultivar is unique in that it can thrive in colder climates, including northern California's windy, foggy coastal regions. The "Alba" cultivar has little fragrance, and the double bloom is white with yellow highlights at the center. Stems on these plants can grow to 1-1/2 feet.