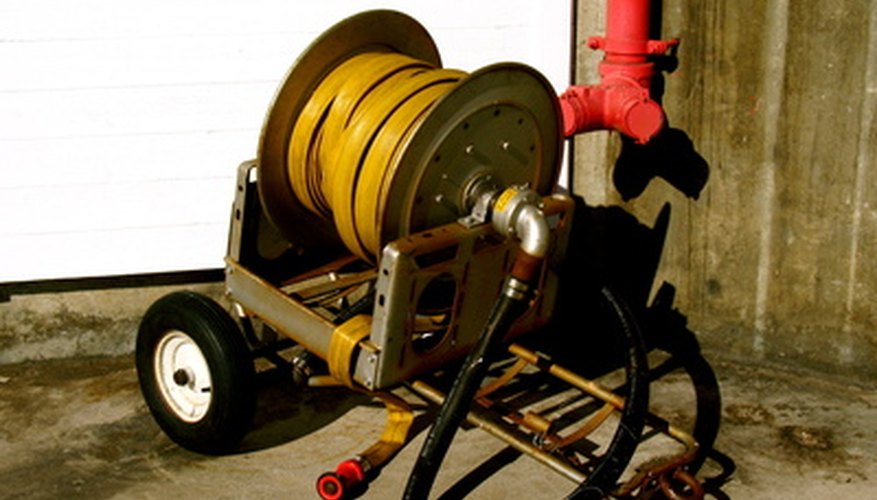 Ortho's Total Kill Brand Lawn Weed Killer comes in a convenient hose-end lawn sprayer that requires no mixing. Total Kill is safe to use on most types of grass lawns, but you should still take a few precautions to protect your yard and garden. Spray on a day with no wind to avoid accidentally spraying and killing your garden plants. And if the weather is warm, spray early in the morning or late in the evening when the sun is not at its height. Otherwise, you may burn your turf grass.
Shake the bottle well and connect the sprayer to one end of your hose. Connect the other end of your hose to the spigot and turn on the water.
Point the nozzle in the direction you want to spray. The best method is to start in one corner of the lawn and move in horizontal rows until you have covered the entire lawn. To start the spray, use your thumb to bend back the safety tab next to the sprayer's knob. Then turn the knob clockwise to the "on" position.
Apply the spray evenly over the lawn. The 1-qt. sprayer can cover up to 16,000 square feet of lawn and it will take between 10 and 15 minutes to empty the contents of the sprayer. Therefore it should take less than 1 minute to cover 1,000 square feet of lawn. Keep your timing in mind while spraying.
Stop the sprayer by returning the tab next to the knob to its original position and turning the knob back to the "off" position. Then turn off the hose's water supply, and remove the sprayer from your hose.
Re-spray the lawn 3 to 4 weeks after the first application if the weeds are not dead.