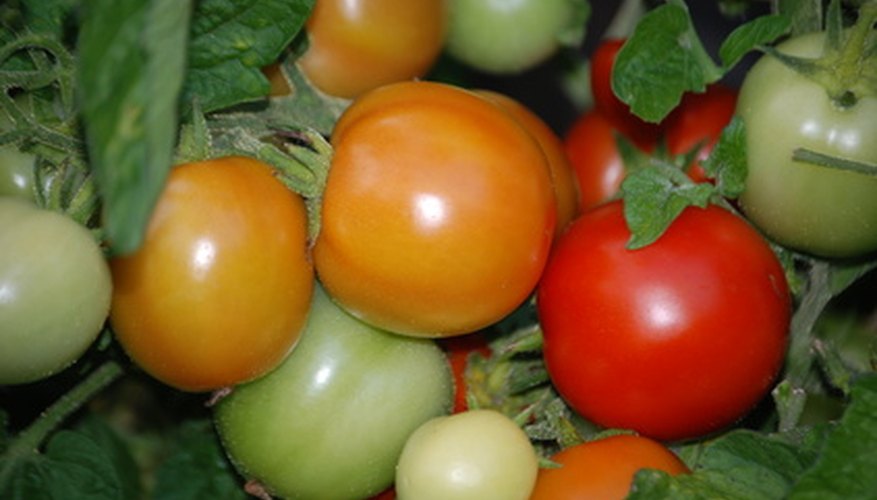 Tomato varieties fall into either determinate or indeterminate categories. Indeterminates grow all season, with suckers arising from the leaf joints. Gardeners prune indeterminates to encourage the plants to produce larger, sweeter fruits. Indeterminates have different colors, sizes, shapes and purposes, and they can be either hybrids or open-pollinated. Indeterminate tomato plants produce until frost.
Determinate tomatoes reach a genetically determined size and set fruits. Fruits on a determinate plant ripen at about the same time, making them ideal for large-scale commercial production.
Brandywine
Brandywine tomatoes average 12 oz. per fruit. The pink fruits have lower acid content than red tomatoes, giving Brandywines a sweet, tangy flavor. Brandywine tomatoes have a rough, lobed shape rather than a smooth globe shape. They are known for the meaty texture of their flesh and for their large size. Brandywines produce late in the season, with first fruits ripening about 90 days after planting.
Better Boy
Better Boy ripens about 72 days after planting. Better Boy plants produce an abundance of large 12 oz. fruits on sturdy vines. This variety is popular in the home garden nursery trade, making Better Boy plants easy to find at local garden centers. The meaty, beefsteak type fruits have small seed cavities, which makes them solid slicers and excellent for home canning.
Lemon Boy
The first fruits of Lemon Boy tomatoes ripen about 72 days after planting. The name describes the bright yellow color of this tomato. The low acid content of Lemon Boy tomatoes makes them ideal for those who prefer mild flavor. Lemon Boy fruits average 7 oz. each, and the plants produce large crops.
Jubilee
Deep orange-colored Jubilee tomatoes weigh in at about 8 oz. each. The firm fruits have an excellent texture for slicing. Pinching out the suckers on the plants will increase the size of the individual fruits.
Sun Gold
Sun Gold tomato plants produce small cherry-type fruits. The orange fruits are about 1 inch in diameter, with high sugar content and low acidity. Sun Gold tomatoes can be eaten in salads or as snacks or dried.
Sweet Million
Sweet Million is named for the huge number of cherry tomatoes the vines produce. Sweet Million produces clusters of very sweet, small red fruits beginning 65 days after planting and continuing until frost. Even in warm, humid conditions, Sweet Million tomatoes resist cracking, which is regularly a problem with cherry tomatoes.
Garden Peach
Considered by some to be a novelty tomato, Garden Peach plants produce fruits with fuzzy skin and a very fruity flavor. Although Garden Peach tomatoes are slow ripeners, they store well.