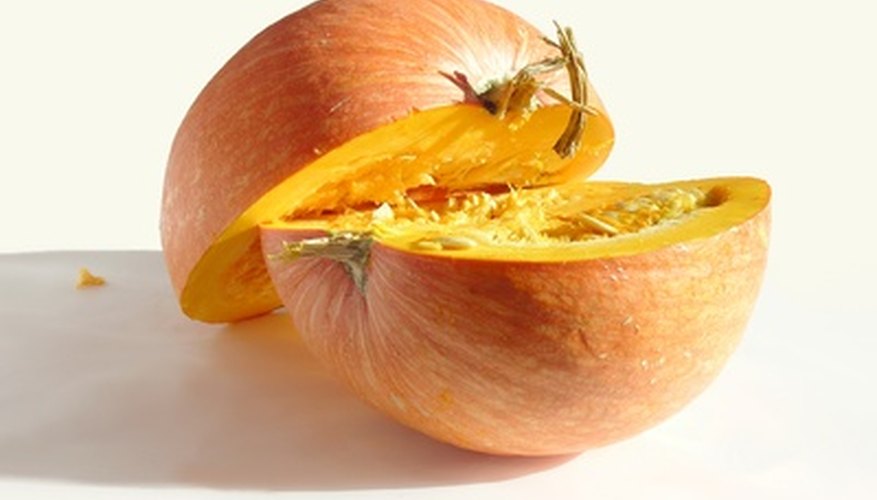 Pumpkin, a member of the cucurbit family of vine plants, which also includes cucumbers, watermelons and muskmelons, is a warm weather vegetable that can be grown in every state in the U.S. According to the Encyclopedia Britannica, the only continent not able to produce pumpkin is Antarctica. Pumpkins are susceptible to a powdery mildew that affects the plant's leaves and may reduce fruit growth and production.
Causes
Powdery mildew is caused by the fungi Erysiphe cichoracearum and Sphaerotheca fuliginea. These diseases come from decaying cucurbit debris left over from a previous season given chance to rot. High humidity causes spore development while dry weather increases spread on leaves. Powdery mildew requires a temperature of between 68 and 81 degrees F for production.
Symptoms
Powdery mildew appears on the leaves of the pumpkin plant as well as young stems. Given chance to grow, powdery mildew covers the entire leaf top. Entire fields of pumpkin will turn white if spread is allowed to continue. Leaf infection will continue to spread to the bottom of the leaf, causing it to brown and shrivel over time. Spreading of the white mildew will spread in a matter of days, while leaf damage will appear over a several-week period.
Cultivar Control
Removing old plant debris such as leaves, dead or damaged vines and pumpkins from the planting area prevents the development of disease in the soil. Debris removal done before the winter season helps prevent decay and overwintering. Plenty of room given to the pumpkins during planting reduces humidity within the plant and allows cooling air to flow through the vines. Rows of pumpkins require 10 to 15 feet of spacing, with 3 feet between individual plants. Ideal fungi growing cultivation conditions are not possible if planting is done properly. Choose a fertilizer that has a low-nitrogen content to prevent over-fertilization of the pumpkin plant.
Chemical Control
Fungicide application controls the spread and occurrence of powdery mildew on the pumpkin plant. Application of chlorothalonil before any sign of the disease will prevent fungi spore propagation. Further applications administered every 7 to 10 days, for the rest of the growing season, prevents spread of fungi.
Resistance
Other cultivar techniques include using pumpkin varieties that are resistant to the powdery mildew. Pumpkin varieties Big Moon, Jack-Be-Little, Magic Lantern, Merlin and Mystic are all resistant to the disease. Big Moon and Jack-Be-Little are highly resistant, while Magic Lantern, Merlin and Mystic are mildly resistant.