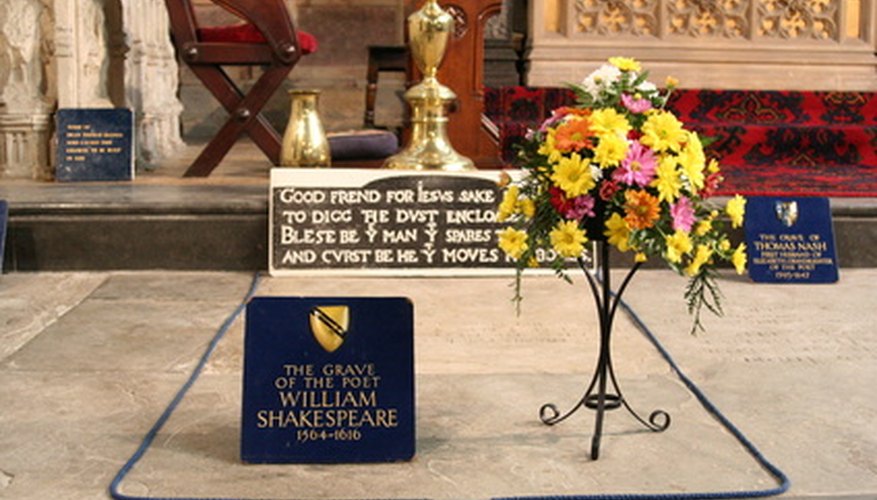 Taking flowers to the grave is a richly symbolic gesture and one that can bring some comfort to the bereaved. Choosing a bouquet of flowers that symbolizes your loss will help you keep the deceased in your heart and mind while beginning to find some sort of closure. It is a final act to honor the departed and everything he meant to you.
Express Your Feelings
Bring flowers that express your feeling for the deceased. If you have lost someone who loved bright, tropical flowers, birds of paradise, plumerias or other festive blooms are appropriate, even on such a sad occasion. If the deceased had more conservative tastes, pale roses or violets may be the right choice.
Create a Lasting Display
A bouquet of flowers will fade much more quickly than your memory of the recently deceased. Why not use silk flowers to create a more lasting tribute? Silk flowers are quite lifelike and come in nearly any variety fresh flowers come in. From subdued evergreen grave blankets to flamboyant blossoms, a display of silk flowers will mark the grave for many months.
Choose Symbolic Flowers
Some colors and types of flowers are traditionally associated with mourning. In Western cultures, black is associated with grieving, so any black or very dark blooms would create an impression of mourning or sorrow. Dark crimson roses in particular are linked to mourning according to the Flower Shop Network. Other cultures associate purple, white and other colors with death, so choose flowers that mesh with the culture you are in.