Dig Out the Face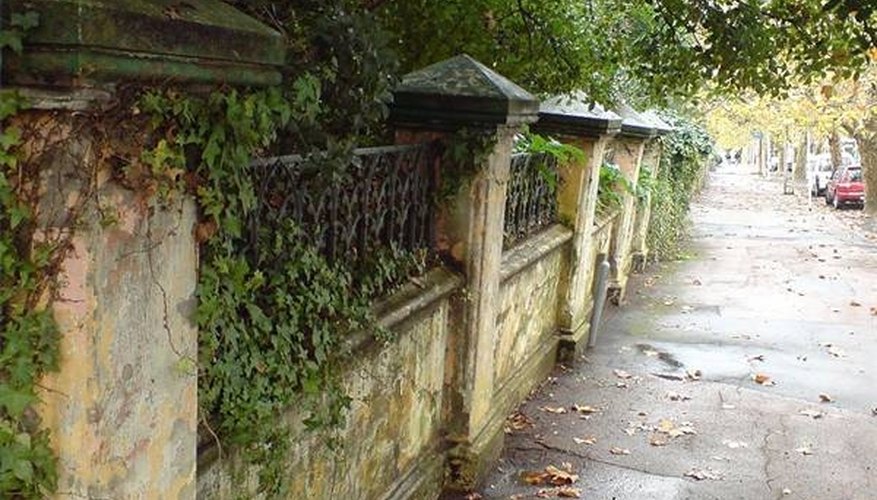 The first step in building a retaining wall with concrete blocks is to dig out the face of the ground to be retained to provide a work area. Dig the slope back and at an angle that will prevent dirt and debris from falling into your work area. Cover the slope with wooden scrap boards or tarp for added stability.
Wall Foundation
The earth pressure on your cinder block retaining wall will be substantial, so block alone will not be enough to hold it back. You will need to stiffen the blocks with steel reinforcing bars ("rebar"), embedded in a concrete foundation. Dig an even, flat box-shaped trench at least 1 foot deep where your wall will be built. The foundation itself should be at least double the width of the trench, and for simplicity most of the extra width should protrude forward from the wall, but some should extend behind the wall as well. Bend your rebar so that it is shaped like an L. This bend should measured and done in a regular fashion, so that the foot of the L will be completely embedded in the foundation, and the stem of the L will rise in a straight, level line both vertically (through the blocks) and horizontally (down the line of the wall). Pour 8 to 10 inches of concrete and plant the rebar.
Laying Block
Using mortar and trowel, lay your block. Note that some of the first line of block will be buried when you fill the dirt back into the trench, as your concrete foundation should not have completely filled in the trench. Cinder block is hollow, so lay the blocks so the rebar rises through them.
For a high wall (5 feet plus) that will hold back a lot of earth, drainage is a consideration. Embed 3/4-inch plastic pipes into the mortar, at intervals of 3 feet, between the first and second layers of block.
Refilling
Filling up the front of the foundation trench is simple: shovel the dirt back in and tamp it down. Behind the wall, the area from the base of the wall to 12 to 18 inches from the surface should be filled with gravel, not dirt. Start by putting in a layer of gravel behind the wall, then filling the dirt in to match, and keep going until a wall of gravel is built up behind your wall of cinder blocks.
Add a Facade
Cinder block is not very attractive. You might consider adding a stone or brick facade to a cinder block retaining wall after construction, or perhaps putting on a layer of stucco. If not, consider using cinder blocks with irregular, decorative facing.