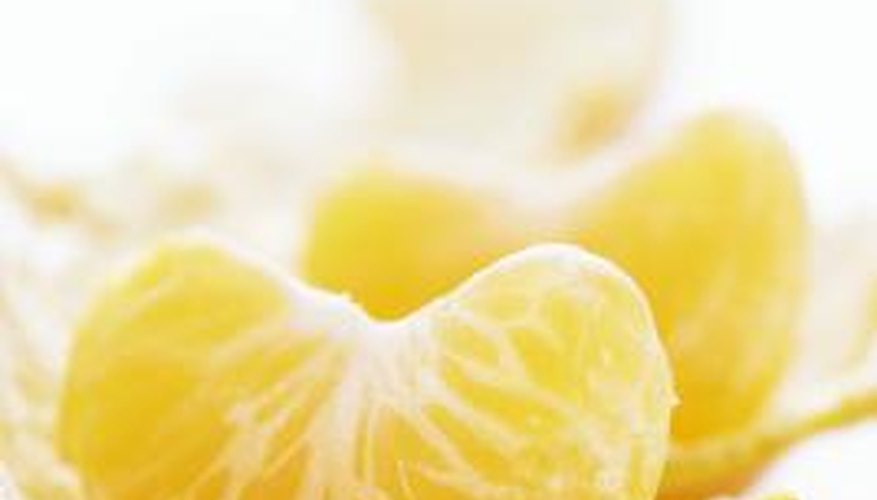 Sweet, juicy and famously easy to peel, tangerines are one of fall and early winter's delectable citrus treats. Tangerines are actually a type of mandarin orange and most varieties originate from south-eastern Asia and the Philippines. Tangerines are more apt to survive cold weather than oranges, but still require a warm climate in order to thrive and produce well. For best results, tangerines require subtropical conditions. In cooler areas, protection from the cold is mandatory.
Clementine
This popular tangerine first arrived in the United States in 1909. It originated in Algeria. The skin of the clementine is red-orange and, according to the Texas AgriLife Extension Service, the segments adhere to the rind slightly more than the typical tangerine. The fruit keeps better on the tree than most other varieties, and it matures sooner than some of the other popular varieties of tangerine, including Dancy.
Dancy
Larger than clementine and with skin of a deeper shade of orange, Dancy is a widely popular tangerine. The variety comes from an 1867 seed from Tangiers, which was brought to Florida. It thrives in places like Florida, which have humid heat. According to the AgriLife Extension Service, however, the fruit goes bad rather quickly if left mature on the tree.
Fallglo
One of the larger tangerines, Fallglo fruit measures about 2 ¾ inches to 3 ¼ inches around. According to University of Florida IFAS Extension, the fruit is easy to peel and contains between 20 and 40 seeds. The tree self-pollinates and matures in the fall.
Ponkan
Sometimes called Chinese Honey or Warnurco, the apparent origin of this tangerine is India. The first seed was probably sent from China to Florida in the 1890s. Ponkan's fruit is larger than most tangerines and has a gentle, sweet scent and flavor. According to the Purdue University Horticulture and Landscape Architecture, this variety isn't as hardy to cold as Dancy.
Sunburst
With a skin that varies from orange to red, depending upon where the tree is grown, Sunburst is packed with colorful juice. According to the Purdue University Horticulture and Landscape Architecture, the fruit matures in late fall and requires cross-pollination for decent yields. Sunburst is vigorous and somewhat cold-hardy.
Robinson
This tangerine is of medium size and the orangey-yellow skin is leathery and easy to remove. The tree requires cross-pollination for good yields, although fruit that isn't cross-pollinated usually has fewer seeds, according to the University of Florida IFAS Extension. The fruit of Robinson matures in late fall, but does not last long if kept on the tree.
Murcott
Sometimes called the honey tangerine, Murcott is a medium fruit with reddish orange to yellow skin. According to University of Florida IFAS Extension, Murcott is more difficult to peel than most tangerines. The fruit matures later than other tangerines, from January through March. However, this late maturing date puts Murcott at higher risk of damage due to cold weather.