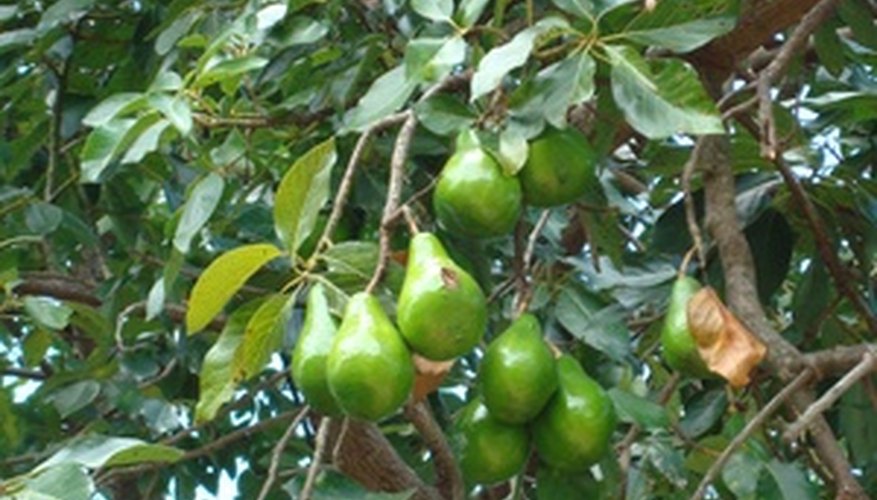 avocado fruits on a wild avocado tree image by Lars Lachmann from Fotolia.com
Avocados are the fruit of a large evergreen tree that originated in Central America. Avocado trees must be cultivated in a frost-free climate. Ventura and Santa Barbara, both cities in southwest California, are the major producers of avocados in the United States. Avocado trees grow up to 30 feet tall and harvesting avocados can be dangerous without the assistance of picking tools. Deborah Pate, in Volume 28, Number 17 of the Dynamic Chiropractic News Source, writes that avocado pickers suffer from axis and range of motion fractures, along with broken ribs, etc., from stretching and falls while trying to hand-pick avocados.
Picking Pole and Cloth Bag
If the avocados are being harvested from a tall tree, it is advisable to use a long-handled picking pole with a sharp V on the metal rim to cut the stem and a strong cloth bag to catch the fruit so the avocado is not damaged.
Fruit Pickers
There are several types of fruit pickers to choose from when looking for a fruit harvesting tool. Fruit pickers are basically a wire basket with fingers or hooks that form an opening at the top. Most baskets have a soft lining at the bottom to minimize any bruising that might occur if the fruit is picked by hand. The idea is to hook the fruit with the picker fingers and pull it off the tree, and have it drop gently into the basket. Fruit pickers come on a pole or on a telescoping pole.
Pruners
Handheld pruners can be used to harvest avocados and other fruits that are hard to remove and are closer to the ground by cutting the stems at the branch. For hard to reach fruits, there are telescoping pole pruners that allow pickers to see the fruits that are higher on the tree. Pole pruners hold as they cut.