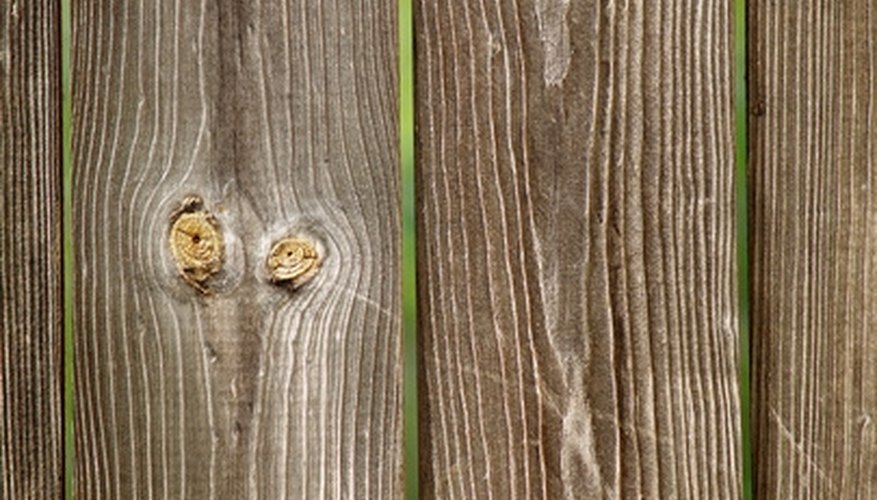 Above ground pools provide a place to cool off on a hot summer day and are easier to maintain than in-ground options, in addition to costing much less to install. Even though the pool is elevated and may be harder to access than a traditional pool, you still must protect the area around the perimeter of the water. Installing a wooden fence is one way to accomplish this. These fences can also provide a stylish addition to your backyard pool.
Options
The primary purpose of an above ground pool fence is to provide safety and privacy. Several options exist when it comes to wooden fence installation. You can build a very high fence which anchors in the ground just outside the surrounding the pool. You can also construct the fence in a large radius surrounding the pool, so you'll have some ground space within the fence. If you opt for this, build the fence several feet higher than the pool. Many above ground pools have decks built around them to provide entry and exit to the pool similar to an in-ground option. A wooden fence can be constructed around the deck.
Treating and Painting
Because your wooden pool fence is outside and exposed to the elements, use treated wood. If the wood doesn't come treated, you can do this yourself by painting it with sealer. Some types of wood, like cedar, require less sealant than others, so check about the exact type used in your fence. You can also add a coat of paint to your pool fence to give a splash of color to your yard. If you want to get creative and provide an enjoyable space for the kids to play, paint a mural or colorful pictures on the inside of the pool fence. This way, the mural won't be seen by the whole neighborhood but the children can still enjoy it.
Gate
You'll need to install a gate in the fence to access the pool. Don't just leave an empty space in the fencing as this compromises the safety. Gates can be purchased or constructed to match the wood from your pool fence. Ensure the gate contains a latch that self locks behind the fence, which allows an adult to easily reach behind to open it while preventing small children from accessing the pool alone.