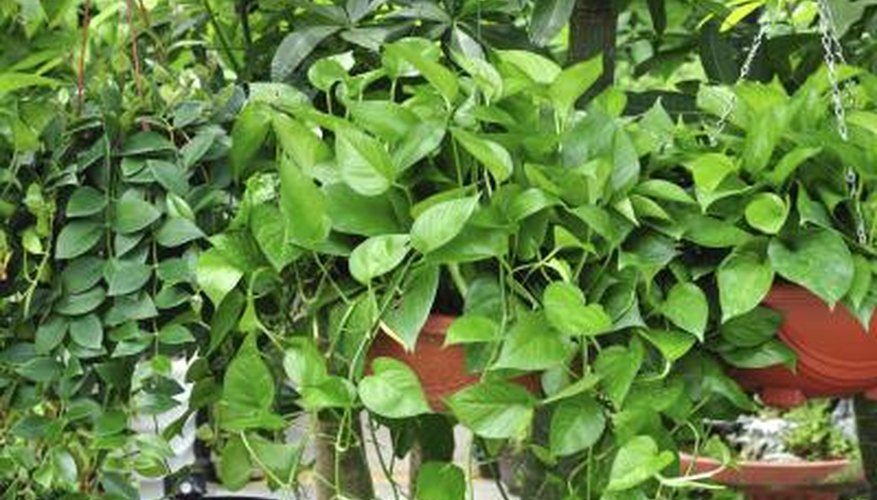 Gracefully trailing over pot edges, versatile hanging plants soften decks, porches and patios, adding vertical interest in limited spaces and bringing interesting flowers and foliage close to eye level. Hanging plants also can fill window boxes, trail over planter edges and spill from raised beds. The portability of hanging basket plants makes it possible to overwinter them indoors, which is beneficial in climates with cold winters. Because they're exposed on all sides, plants in hanging baskets need extra care with watering. Many kinds of plants can be used as hanging plants.
Fragrant Favorites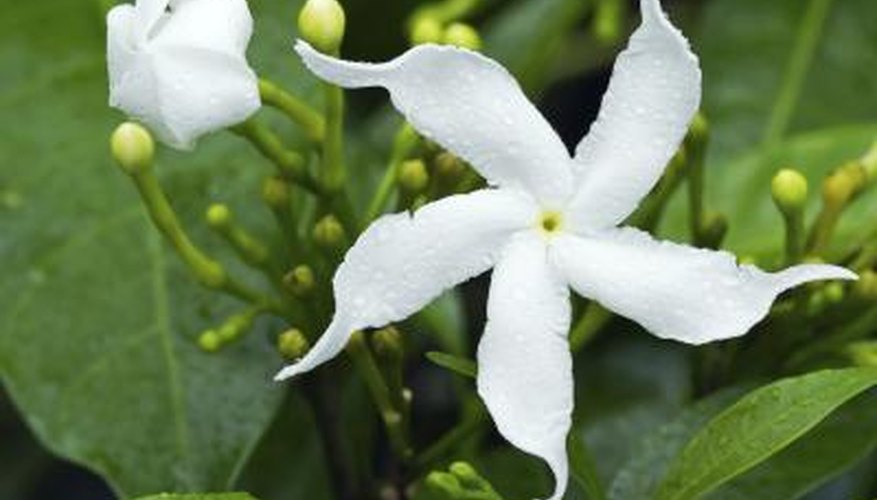 One option is to choose hanging plants with fragrant flowers for areas you pass frequently or use for outdoor living. An example of such a plant is sweet alyssum (Lobularia maritima). Its tiny, tightly packed, white, lavender, pink, apricot or purple flowers deliver honey-scented fragrance. The plant's low, mounding growth provides coverage and drapes tidily over pot edges. It may need pruning to one-half its height in summer to renew its growth. Although hardy in U.S. Department of Agriculture plant hardiness zones 5 through 9, sweet alyssum is usually treated as an annual. If you want a plant with really intense fragrance, try Arabian jasmine (Jasminum sambac). That evergreen vine grows 6 to 10 feet long but can be kept as a container plant or hanging basket plant by pruning its branch ends. Hardy in USDA zones 9 through 11, and returning from only its roots each year in USDA zones 8 through 9, Arabian jasmine produces white flowers mostly during summer but can bloom almost year-round in warm-winter areas.
Tasty Treats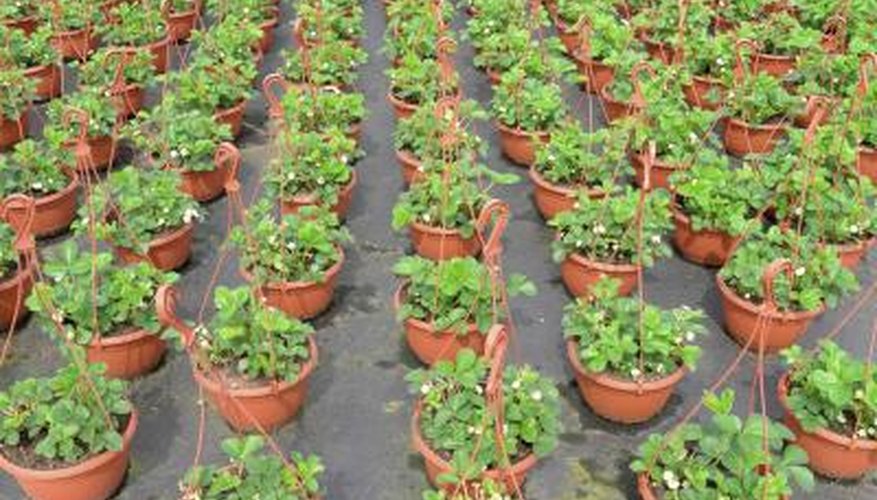 Combine eye appeal with flavor by growing small varieties of tomato plants (Lycopersicon esculentum) and "Tristan" strawberries (Fragaria x ananassa "Tristan"). "Which? Gardening" magazine tested 15 hanging basket tomato varieties in 2008. A 13-inch hanging basket plant of the cultivar "Hundreds and Thousands" came in first in flavor and produced 504 miniature cherry fruits in just one season. The variety "Tumbler" also did well in the test, with over 4 pounds of cherry-sized fruits. Although usually grown as annuals, tomato plants are hardy in USDA zones 8 through 11. "Tristan" strawberry is hardy in USDA zones 5 through 8, and its pink flowers give way to medium-sized, sweet fruits. When the plant is in a hanging basket, its leaves and fruits dangle over the container's edge. "Tristan" fruits best in its second year.
Water Savers
Succulent plants that store water in their leaves, stems or roots are suitable hanging plants because they are more tolerant of dry conditions and don't need as much water as non-succulent plants. One succulent, the wax plant (Hoya carnosa), displays thick, leathery leaves and waxy, pink to white, fragrant flowers. Hardy in USDA zones 9 through 11, wax plant does well as a houseplant when given bright light. A succulent with an attention-grabbing growth form is burro's tail (Sedum morganianum). Its small, closely spaced, jade-green leaves fill numerous stems that grow 2 to 4 feet long and provide the plant with a waterfall effect. The branches and leaves break off easily, but each leaf can form a new plant, and the branches root easily. Burro's tail has pink flowers at it branch ends and is hardy in USDA zones 10 through 12.
Long-Lasting Color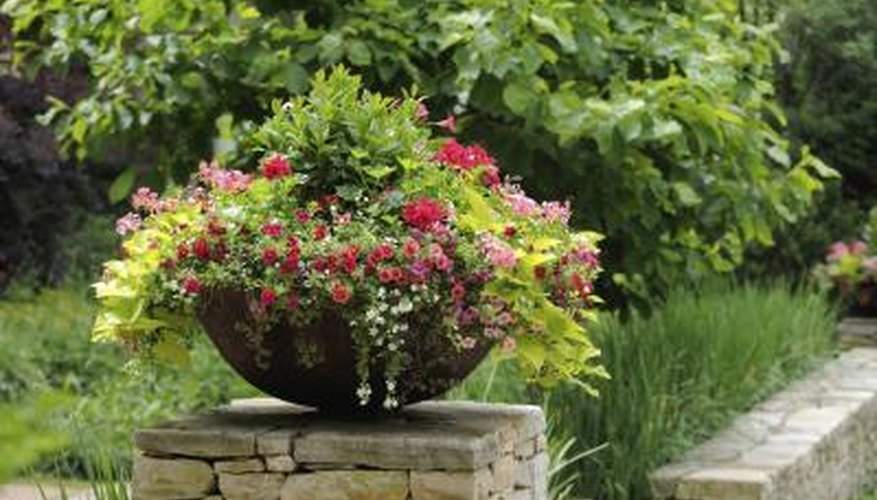 It's simple to have seasons-long color with relatively little effort if you choose the right hanging plants, such as Million Bells (Calibrachoa hybrids) and ivy geranium (Pelargonium peltatum). A relative newcomer to the gardening world, Million Bells was introduced in 1992. Blooming all summer and until frost, it produces a large number of flowers. The plant resembles small petunias and doesn't need deadheading. The variety "Superbells Tequila Sunrise" is hardy in USDA zones 9 through 11 and has red, orange and yellow flowers. When deadheaded, ivy geranium blooms throughout the growing season with white, pink, lavender or red, single or double flowers. Hardy in USDA zones 10 through 11, ivy geranium blooms best when nights are in the 50s and 60s F. Pinch the stems back occasionally for bushier growth in the plant.