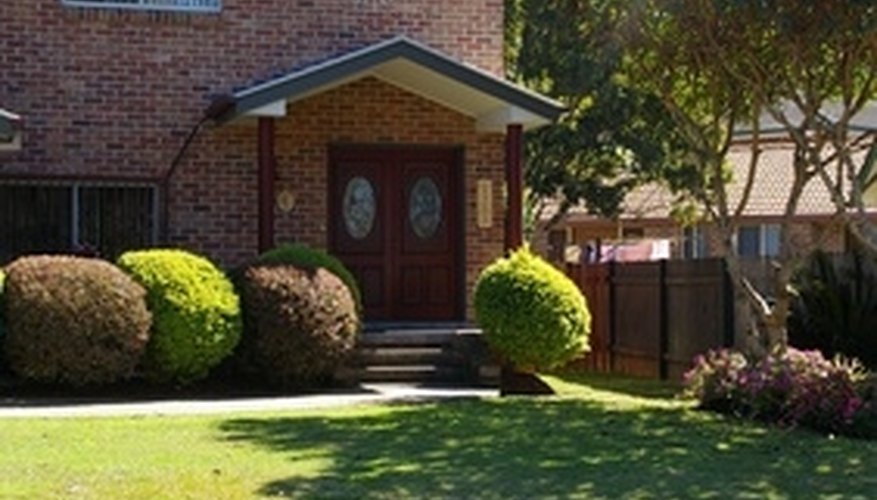 Nearly all homeowners take great pride in decorating and keeping an aesthetically pleasing home. Some focus on indoors, while others most enjoy working outdoors in the soil and sun. Whether you are the former or latter, many homeowners know that your front door makes a big impression on visitors and passers-by. This means that great care should be taken when landscaping your front door. A beautiful landscape reflects a homeowner who takes pride in the home, just as the style of that landscaping reflects your personality. Help your character shine through by giving your front door a beautiful landscape makeover.
Perfectly Symmetrical
Very structured and organized personalities may gravitate toward this style of landscaping. It involves applying elements to either side of your door that reflect each other perfectly. If you have a stoop with no porch, use shrubbery like holly bushes or rhododendrons on either side of your door, parallel to the outer walls of your house. Both of these shrubs grow quickly and are low maintenance. Both also look attractive no matter what the time of year. Plant Japanese maples or dwarf dappled willows or another kind of dwarf tree to complement your shrubs. These trees are usually very easy to maintain and have little chance of overshadowing your home.
If you have a porch, you can use flower boxes and potted trees to create symmetry. Plant brightly colored flowers in your flower boxes and set them along the porch railings. Again, dwarf trees on either side of the door would look lovely. Hardy plants like aloe or rubber plants in pots on the stairs along with lights finish the look.
Asymmetrical Style
Asymmetrical style gives the illusion of symmetry by "weighting" the two sides of the door with a similar amount of plants while using height and style of plant to give each side a different look. For instance, if you have a stoop and no porch, you may want to plant a green shrub like holly on one side of your door paired with a few other shrubs like mock orange, forsythia and low-growing ground cover arranged by height so that they touch and meld. On the other side, you may want pair a Japanese maple with juniper shrubs maintained at a low height. A sprinkling of wild flower seeds along the sides of your walk and around the base of your landscaped plants completes and pulls this look together.
If you have a porch, focus asymmetry outside and around the porch, using large plants like those mentioned above. Bring the asymmetry to your porch and around the door by hanging plants on one side of the porch entry and using flower boxes on the other. Apply the same approach next to the door; use a potted dwarf tree on one side and an organic ivy topiary on the other.
Driveway Landscaping
If your front door is very close to your driveway and garage, make sure to include it in your landscape design. If you decorate only your front door, your landscape will look lopsided and unfinished. Since driveways are generally much larger spaces than front doors, use a balanced but asymmetrical design with this kind of front door. Along the side of your house with no driveway, plant a dwarf tree with an interesting shape like a Japanese pine or maple, dwarf cherry or apple tree. Pair it with low-growing shrubs of different shapes and textures, keeping taller plants close to the house and shorter ones closer to the front. Juniper shrubs make pretty backdrops, while African violets look lovely near the front of an arrangement.
On the other side of your home where the driveway is located, use one tree and one or two low-growing shrubs, like a dappled willow and a few forsythia bushes. Make sure to plant your trees near the corners of the house so that the attention is drawn to the center and the door.