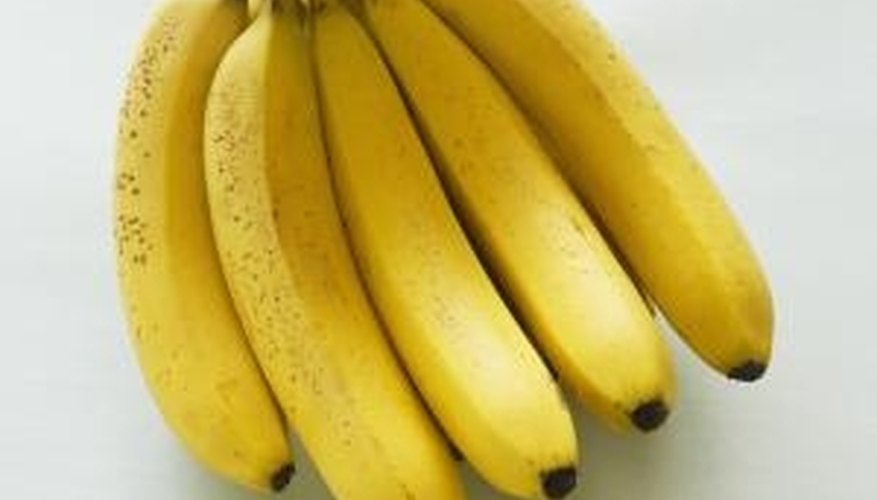 Bananas are sold in several stages of ripening to accommodate the needs of consumers. If you are making a banana cream pie the same day as shopping, ripe bananas are available. You can also purchase bananas with skins in varying shades of yellow and green to naturally ripen over a few days on a counter or shelf. Bananas go through several stages of ripening before they arrive at retail stores and can be ripened further at home using several different methods.
Commercial Ripening
After bananas are picked, they are hauled to an agricultural ripening center. Over the next four to eight days, ethylene gas is discharged into the environment to encourage the bananas to start producing their own gas. As they ripen, their flesh starts to convert into sugar, giving the bananas a sweet flavor and fragrance. Banana skins go through seven color transformations during ripening. The stages including turning from vibrant green to green on each end, completely yellow and finally, yellow with brown and black spots.
Paper Bag
When bananas emit ethylene, placing bananas in a paper bag and loosely closing it increases the intensity of the ethylene in the enclosure and makes the bananas ripen more rapidly. Placing an ethylene-emitting apple or tomato in the bag further increases the gas concentration and accelerates the process.
Plastic Bag
Placing bananas in a plastic bag will also hasten their ripening although they may become soft or discolored on the inside because the ethylene cannot escape as easily as in a porous paper enclosure. Adding an ethylene producing fruit or vegetable increases the quickness of ripening.
Microwave Oven
To ripen bananas in a microwave, prick the skin in several places, making sure the piercing goes all the way through to the flesh of the fruit. Microwave on high for about 90 seconds and let cool before peeling.
Heat Exposure
Bananas ripen faster when exposed to moderate natural or man-made heat. Place them on a sunny windowsill, in an oven that has been turned off after use or set them on a stove top to warm while other foods are being prepared on the stove top or in the oven.
Banana Stands
Banana stands, also called banana trees or swings, suspend bananas on a hook so air flows freely around them, encouraging even ripening while protecting them from bruising. Bananas hung over bowls of apples or other ethylene-producing fruits ripen faster.