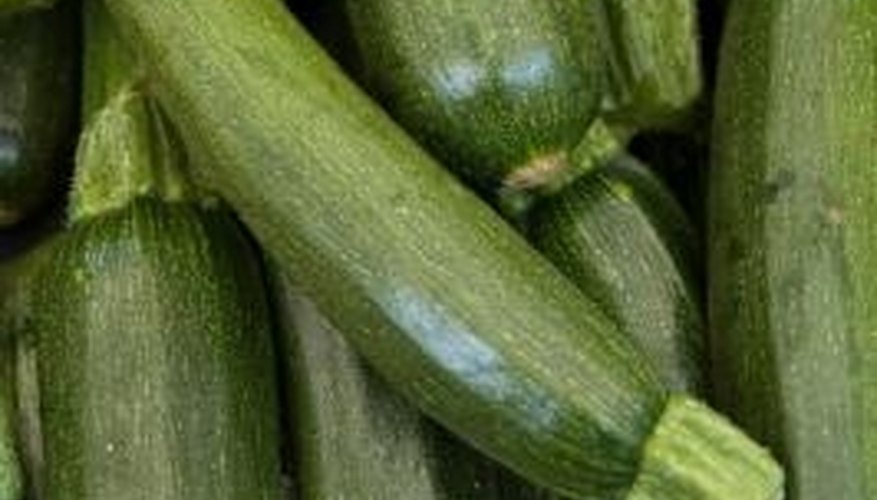 Powdery mildew is a serious fungal disease of squash plants, although many cucurbit varieties are now resistant to the disease. Powdery mildew can devastate your squash crop, but you have multiple options for treating the disease organically. There are also several options for preventing powdery mildew on your squash plants.
Identification
On squash and other cucurbit plants, powdery mildew emerges at first as pale-yellowish spots on the leaves and stems. Then, the yellow spots widen and white fungal mycelium begins to grow. The mycelium covers the plant surfaces and takes on a powdery appearance as it begins to produce spores. The squash leaves and stems will turn dull and wilt, and then turn brown and papery. Powdery mildew can cause eventually kill your squash plants.
Cultural Controls
To prevent and control powdery mildew, plant your squash in sunny locations in your garden, spacing the plants properly to provide adequate air circulation. Apply slow-release fertilizers to avoid over-fertilizing your squash plants. Another good cultural control for powdery mildew in successive squash plantings is to plant the squash away from the older, established plants to prevent spreading the fungal disease.
Fungicides
Organic protectant fungicides for powdery mildew prevention on squash include sulfur and the biological fungicide called Serenade. Serenade and other similar biological fungicides contain the bacterium Bacillus subtilis, which kills the powdery mildew fungi. Horticultural oils, as well as jojoba and neem oils, can act as both protectant and eradicant fungicides. Don't apply sulfur or oils within two weeks of each other or when temperatures are above 90 degrees Fahrenheit to prevent plant injury. Coat all the squash plant parts thoroughly with the organic fungicide, providing additional applications every seven to 10 days, as needed. Follow the instructions on the organic fungicide's label carefully.
Prevention
The best way to prevent powdery mildew is to plant resistant squash varieties. For susceptible squash varieties, you can try an organic preventive application of paraffinic oil with baking soda. Combine 3 tbsp. of paraffinic oil with 1 gallon of water, and then mix in 3 tbsp. of baking soda. Apply the mixture to the squash plants to help prevent powdery mildew, but don't apply the mixture when temperatures are above 90 degrees Fahrenheit, within two weeks of applying sulfur or when the squash plants are stressed from drought.