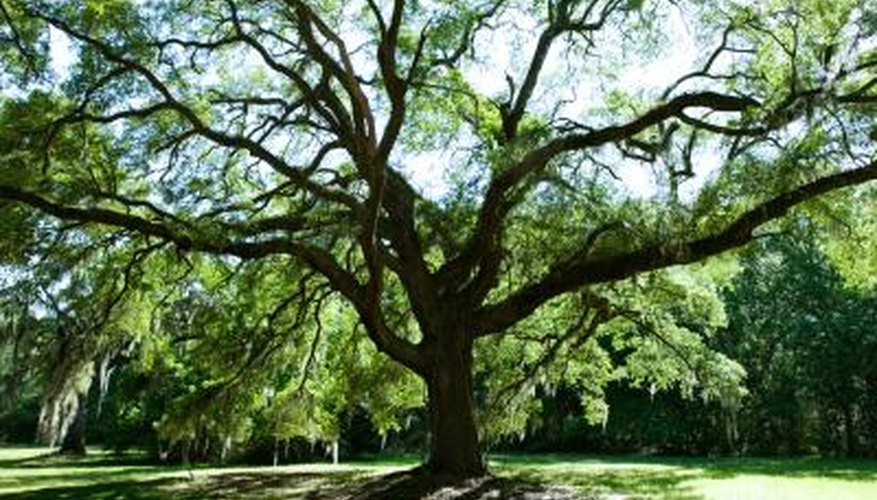 Bark splitting or damage can occur on oak trees, especially if they are newly planted seedlings. Oak trees also can experience splitting bark when freezing temperatures are followed by warm weather. Temperature fluctuations can cause frost cracks in the bark, as can fertilizing in the fall. It is important to repair the damage to reduce the risk of harmful pathogens entering the wound. Trimming around the wound will help the oak tree to heal.
Step 1
Mix in a spray bottle 70 percent denatured alcohol (ethanol) and 30 percent water. Spray a sharp knife with the mixture to sterilize it. It is extremely important to use sterilized pruning tools when trimming oak tree bark to prevent spreading disease.
Step 2
Trim 1/2 to 1 inch around the wound and at a depth of 1/2 inch. Try to create an oval shape around the wound, using a sharp knife. Spray the knife with the sterilizing mixture after each cut.
Step 3
Remove the bark inside of the traced area, using your hands or a knife. Make sure the wounded area is smooth and even.
Step 4
Spray the wound with the sterilizing mixture. Press a clean towel to the area to absorb the excess water and alcohol.
Step 5
Check the wound to make sure that pathogens, fungal diseases or pests haven't entered the wound during the growing season.