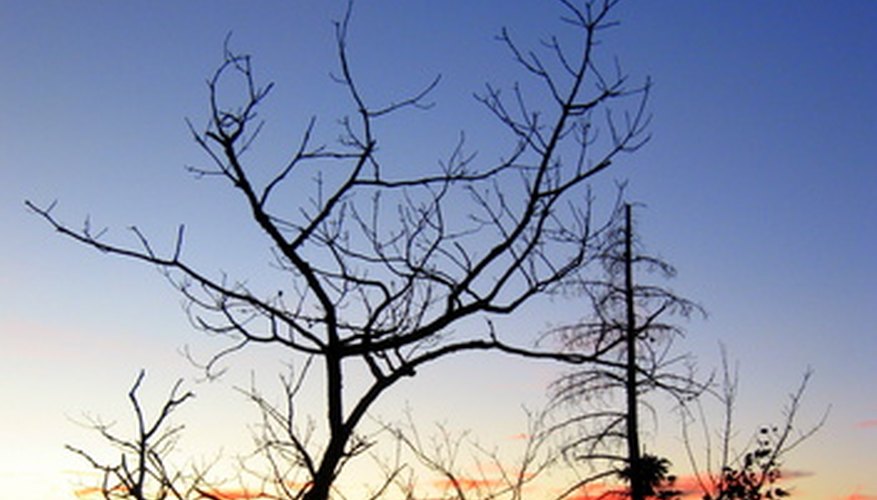 Crooked Tree, Straight Tree at Sunset image by loongirl from Fotolia.com
The primary function of tree wrap is to protect the tree's trunk. Damage from landscaping equipment and weather elements can harm trees. Stunted growth, increased susceptibility to disease and tree scarring problems are reduced with the use of tree wraps. Wrapping a tree should take no more than 15 to 30 minutes to complete per tree.
Place the tree wrap at the base of the tree and hold it in place with your hand. Working your way upwards enables better coverage of the tree trunk.
Wind the wrap upward on the tree by walking around the tree in a circular motion. Place your hand under the wrap periodically to prevent from pulling it too tightly around the tree.
Overlap the tree wrap 1/3 with each turn around the tree, advises Kansas State University. Continue wrapping until reaching the lower tree branches.
Cut the unused tree wrap from the roll with a pair of sharp scissors.
Secure the tree wrapping with one or two thumb tacks at the top under the lower tree branches.
Things You Will Need
Tree wrap

Thumb tacks

Scissors
Tip
Wrap snugly without pulling the tree wrapping extremely tight.
Warning
Remove tree wrapping in the spring when tree leaves dormancy period.