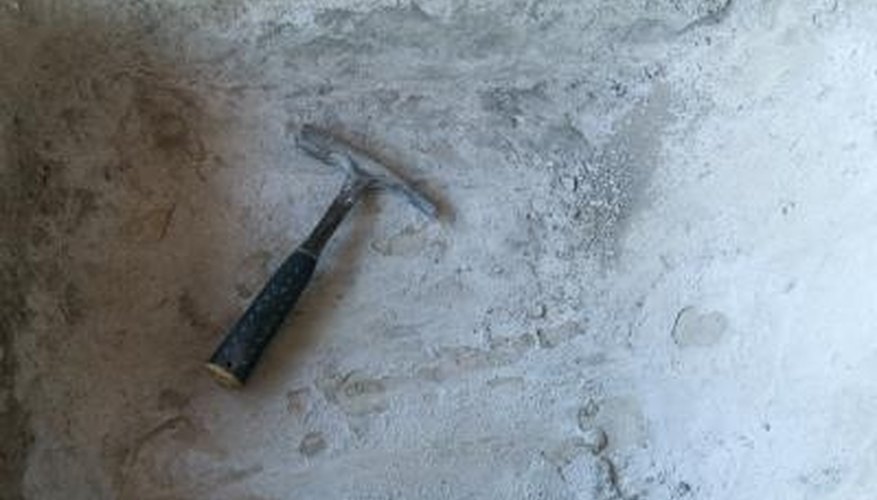 Whether you're installing a floor in your basement or looking to change the concrete floor in your contemporary kitchen to something warmer, you need to evaluate your concrete slab and your flooring options before you begin your project. You can use a variety of flooring materials, such as hardwood, tile, laminate, vinyl, carpet and paint in the right conditions. But most require a subfloor, and many are poor choices if you have any moisture problems -- even with a vapor barrier. Choose well, because you will probably be living with the floor for some time to come.
Measure the moisture content in your concrete slab floor. Place a piece of plastic over a section of your slab. Tape the sides with duct tape, so the area beneath the plastic is completely sealed. Leave the plastic on the concrete for at least 24 hours. Pull off the tape and the plastic. If there's moisture on the inside of the plastic, your concrete has a high moisture content. If you're unsure of the results, purchase a moisture test at a home-improvement store, and test the surface again. If there is moisture in your slab, you need to install a vapor barrier before putting in any type of carpet or flooring. Even if you install a vapor barrier, hardwood flooring, laminate and some types of paint are not recommended.
Use a long level or a 2-by-4 to determine if your floor is level. Hold the board straight across the floor of the room. The highest point of the concrete slab should touch the bottom of the board. Measure variations in the concrete. If there's a difference of more than 3/8 inch in any 10-by-10 foot area, treat the floor with a self-leveling compound to increase your flooring options. If you do not level the floor, carpet is your only practical option.
Take other elements, such as radiant heating, into consideration if you're planning to install it before the flooring goes in. Radiant heating works best with flooring that conducts heat, such as ceramic tile.
Consider the cost of each flooring that you can use, along with its durability and longevity. Inexpensive vinyl with carpet squares in one or two areas may be the most practical choice for a basement playroom, while more expensive and attractive hardwood might be the best choice for a kitchen.