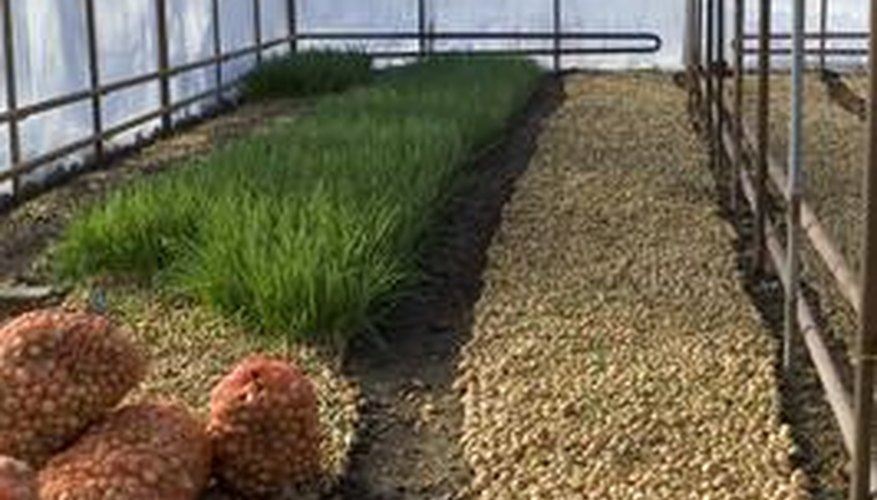 onion greenhouse image by Alex Motrenko from Fotolia.com
Greenhouses provide you with the ability to grow plants out of the normal growing season in your area. They trap the solar energy that comes in from the sun during the day which allows the greenhouse to warm up to a higher temperature than that of outside. If too much solar energy gets trapped in the greenhouse, it needs to be vented out. Otherwise the greenhouse will get too hot and that can be lethal to the plants. With a few tools, it is fairly easy to vent a greenhouse.
Calculate the CFM (cubic feet per minute) venting requirement for your greenhouse. Look at Resources section of this article for a great greenhouse CFM venting calculator. Calculate the shutter size needed for the intake shutter. This calculator can be found in the Resources section also.
Purchase the required size exhaust fan and shutter size.
Mount the exhaust fan on one side of the greenhouse and the shutter on the opposite side of the greenhouse. Refer to the installation instructions of each for appropriate installation as it will vary depending on brand purchased.
Mount an electrical box in between the exhaust fan and the intake shutter. It should be between 4 and 5 feet off the ground. Run electrical wiring between the electrical box and the exhaust fan. Wire exhaust fan into electrical circuit. Refer to wiring diagram for exhaust fan and local electrical codes.
Wire the reverse thermostat into the electrical box. Refer to wiring diagram and installation instructions for the reverse thermostat that you purchased. Mount it to the electrical box after wiring has been completed.
Set the thermostat to your desired setting. When the temperature in the greenhouse exceeds the set temperature on the thermostat, the exhaust fan will exhaust air out of the greenhouse, which will be replaced by air from the intake shutter. When the exhaust fan shuts off, the shutter will close.
Things You Will Need
Exhaust fan

Intake shutter

Electrical box

Electrical connectors

Electrical wiring

Wire stripper

Wire nuts

Tape measure

Screwdriver

Screws

Reverse thermostat

Cordless drill
Tips
The exhaust fan should be mounted so that air is blown out of the greenhouse. This will create a negative pressure which opens the intake shutter and allows air into the greenhouse.

You may need supplemental heat for at night and cloudy days depending on the outside temperature. The exhaust fan and intake hood setup will not provide any supplemental heat.
Warning
Always consult local electrical codes before performing any electrical work. If in doubt, hire a licensed electrician to do the wiring for your exhaust fan.