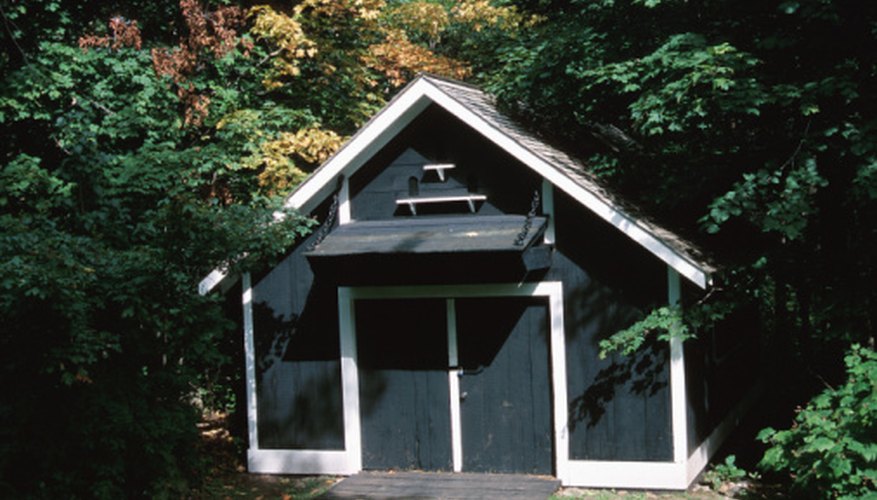 A sturdy foundation is the key to a long-lasting storage shed. Do-it-yourself home owners with solid carpentry skills will find building a wood foundation easier than excavating, setting up forms and having concrete poured. The principles of building the foundation are similar no matter what size shed you plan to build. Making a strong, durable foundation does not require special tools. Simply take your time, make accurate measurements and use treated lumber.
Contact your city building permit department to obtain a permit, if one is needed, and to check on the anchoring requirements. Find out if your homeowner's association has guidelines and design restrictions for storage buildings and get its approval to build.
Measure and cut all the floor joists, two rim joists, two band boards and the skids to size. The rim joists are the outer joists at each end of the floor frame. The band boards are the long sides to which the joists and rim joists are attached. The floor frame sits on top of the skids.
Mark the two band boards with joist reference marks every 12 inches on center. Assemble the floor frame by nailing each joist and the two rim joists to the band boards. Use 16d galvanized common nails.
Lay the skids on the ground with equal spacing. They should be positioned such that when the floor frame is placed on top, the long sides of the frame rest flush with the outer skids or extend an equal amount out to the side of the outer skids. Check the skids for level using a carpenter's level. Add or remove soil underneath the skids if necessary.
Place the floor frame on top of the skids. Run a tape measure between the diagonal corners to ensure the floor frame is square. Make any necessary adjustments.
Drive nails at an angle through the joists into the skids using 16d galvanized nails. This is referred to as toenailing. Measure the joist at the 4-foot, 8-foot and 12-foot lengths along the skids before attaching to ensure they are precisely on center. This makes nailing the edges of the plywood flooring easier as they will fall in the middle of a joist.
Anchor the flooring frame to the ground according to the building codes.
Attach the plywood flooring to the frame. Start laying the plywood at one of the front corners and work your way to the back. Nail the plywood every 6 inches around the outer floor edges and every 12 inches in the interior. Use 8d galvanized box nails.