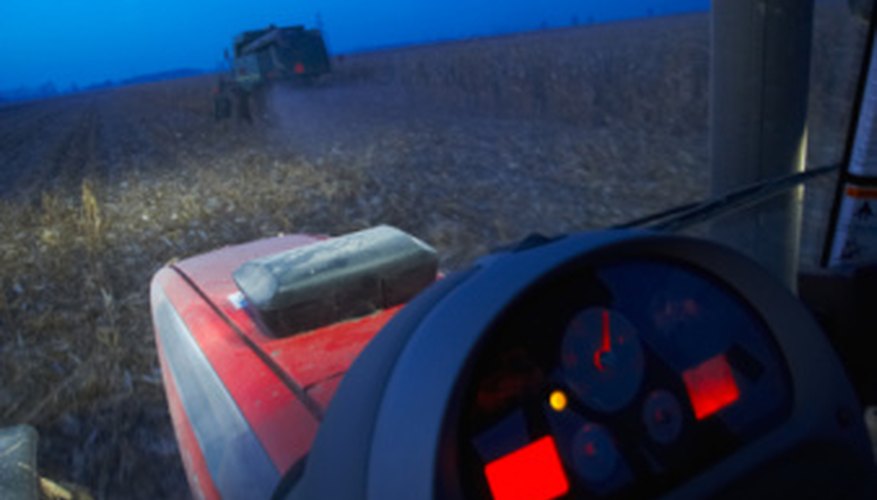 Harry Ferguson, the mechanical innovator who gave the three-point hitch to the agricultural world, is credited with this quote: "Beauty in engineering is that which is simple, has no superfluous parts and which answers exactly its purpose." This serves as a guiding principle for the manufacturer that has borne his name since 1953, when Ferguson merged his efforts with the century-old Massey-Harris company. In its promotional literature, Massey Ferguson boasts ease of use and efficient performance in its tractors and attachments. While responding to market pressures for increased capacity and power, this builder also seeks to assure farmers of the operational simplicity and personal comfort related to its products.
Practice safe-start procedures. Keep the cab and driver area free of debris such as tools, food and manuals. Mount the tractor using the safety attachments provided. Many modern MF models have self-cleaning steps and roomier cabs to make mounting less hazardous. Adjust your seat for comfort and buckle the seat belt. Check all controls to make sure they are off or in the neutral position.
Open any fuel shut-off controls. If your model requires pumping the fuel into the fuel lines, do it at this time. Place the key in the ignition and start the engine. MF uses engines by Perkins, which it acquired, and by AGCO, its parent company; both companies provide turbo-charged, fuel-injection engines in recent years, so these modern tractors should all start on the first attempt without difficulty.
Shift the tractor into forward. Contemporary MF versions sport ergonomic consoles, with fingertip directional controls to the left of the steering wheel, and accessible T-levers for shifting on the right side. The four speed ranges are each composed of four speeds, constituting 16 speeds in forward and reverse. By contrast, the MF 1500 offers 12 forward speeds and four for reverse. Older models have pedal clutches on the left side of the platform and brake pedals to the right.
Depress the brake pedal to activate four-wheel drive in the applicable models. Releasing the pedal will conversely disengage four-wheel drive. Today's tractors have brakes convenient to the driver's right foot. More seasoned models will almost invariably have their brake pedals to the right of the operator as well; though they might require more of a reach.
Maneuver the vehicle across an open area in a zigzag pattern. Get a feel for the steering wheel and for how wide the front axle can turn and oscillate. The MF5400, for example, gives a wide berth of 55 degrees for steering and 22 degrees for oscillation.
Engage the power take-off (PTO) after attaching your implement by means of the three-point hitch. Newer models, such as the MF8400, provide easy lift control and PTO activation on the right-hand console. PTO may be an optional feature on older models.