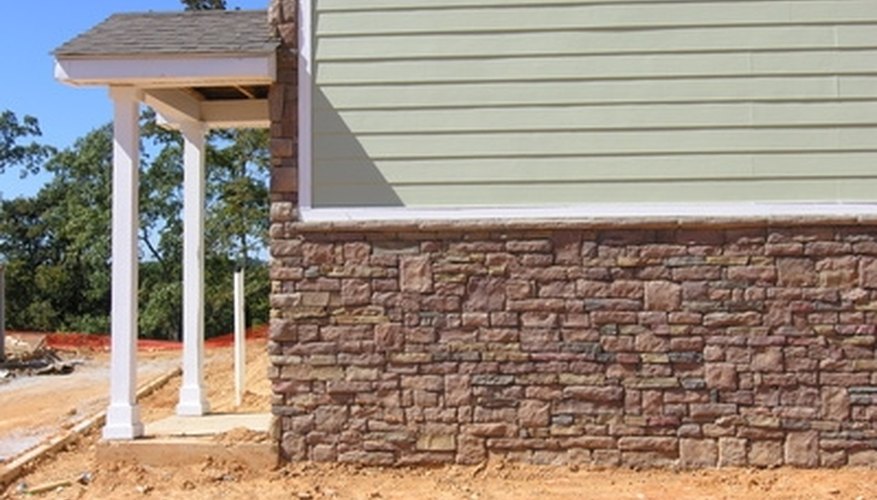 Cement siding is typically constructed from fiberboard cement. This siding is made up of cement mixed with other materials to make it more lightweight and flexible. Attaching outdoor lighting to cement siding is slightly more difficult than attaching light fixtures to wood or other softer materials, but it is similar to the process for attaching fixtures to brick. To support the weight of the fixture, the screws must be anchored into the siding. Use screws between 1 and 3 inches long, depending on the thickness of the cement siding.
Choose a concrete anchor that is a size smaller than the holes in the mounting plate. For a 1/2-inch mounting plate hole, use a 3/8-inch concrete anchor.
Place the mounting plate against the piece of siding where you want to install the fixture. Mark the placement of all mounting holes with a marker or pencil.
Put on safety goggles. Drill through the marked areas on the cement siding equaling the same depth as the concrete anchors. Screw the concrete anchors into the drilled holes in the cement siding.
Place the mounting plate back over the cement siding. Pull any necessary wires through the hole in the plate so that you can attach the fixture and operate it properly. Screw the plate into place with concrete screws and a power screwdriver. Screw all screws in lightly, then tighten them fully after all screws are in place. This will help align the mounting plate correctly.
Connect the fixture to the wires, then attach it to the mounting plate.