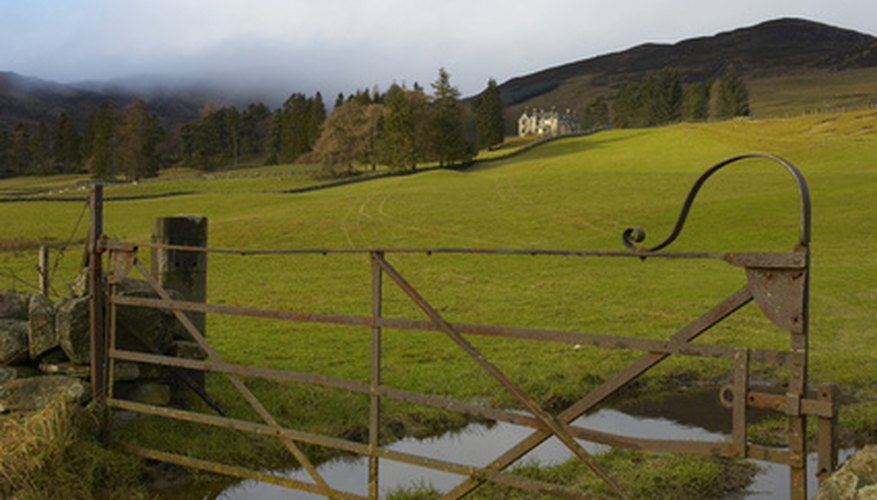 Sometimes the best answer to a problem is the simplest one. For example, adjustable height gates can come in very handy - especially in snowy areas. The problem? How to make a hinge for the gate without replacing the fence or gate assemblies. With some basic parts and tools, it is possible to make gate hinges at home that allow the gate to be raised or lowered as needed.
Instructions
Dig a hole and fill with cement. Lower the angle iron into the hole. Let it dry. The angle iron is the post for the adjustable gate, and the pivot part of the hinge. It is important to use iron that has holes in it, as the bolts that go through the holes are the pegs that the hinge rests on.
Cut three 3-foot lengths of metal strapping. Taking one section at a time, fold it over on itself, but do not crease it. The end with the fold in it should look rounded, not flat.
Use wood screws and attach the folded strapping to the gate. Repeat this procedure for the other two sections of strapping. When finished, there should be three metal strapping loops attached to the gate. One at the top, one at the middle and one on the bottom.
Slide the loops over the angle iron. Determine gate height. Slide a bolt through the angle iron at the gate height desired. Rest the strapping on top of the bolt. Thread a nut onto the bolt to keep the strapping from sliding off and the bolt from falling out. Repeat for remaining two hinges.