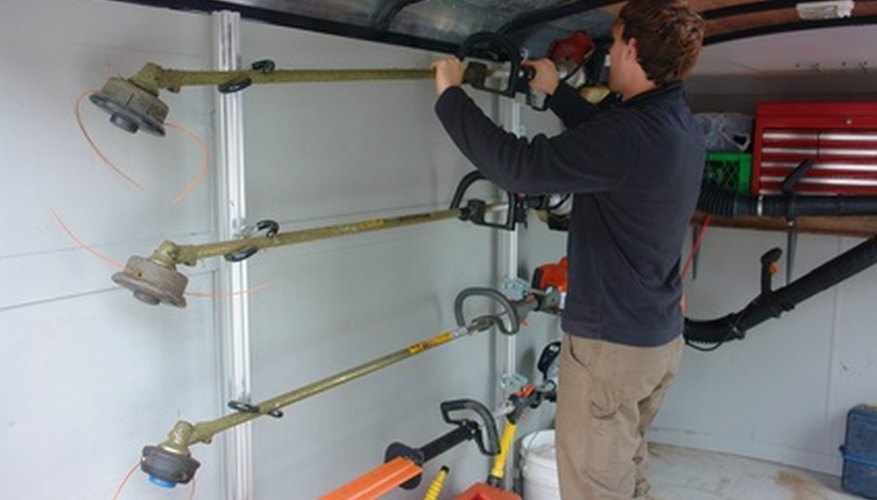 Weed Eater is actually a brand name that has become synonymous with any kind of gas-powered lawn trimming tool. The trimmer itself is a small-stroke gas engine tool that uses a nylon string to cut lawn edges and weeds. The nylon string is easier on things such as trees and reaches tight areas that a lawnmower cannot cut. A tuneup keeps your weed eater trimmer operating at optimal performance.
Check over the exterior housing of the trimmer, looking for cracks or wear. Check the handle and deflector to be sure they are tight and in good working order. These should be replaced for safety reasons if there is damage.
Drain the gas from the tank in a proper gas container and take it to a gas station or local recycling station at a later time.
Remove the spark plug using a socket wrench. Check the condition of the spark plug. It is best just to replace it with a fresh one, however it can be cleaned if it is in good condition. To clean it, use a wire brush and engine cleaning solvent, but be sure to check the gap measurement with a gauge before replacing it in the trimmer.
Unscrew the cap from the air filter cover using the Phillips head screwdriver. Take the air filter out and wash it with the hose removing dirt and debris. The filter should be open celled reusable foam. If it is another type, check to be sure washing it is possible. If not, clean it or replace it if it is too dirty and not of a washable material.
Check the head where the nylon line is housed. Some trimmers use wound string, others use stick type that poke through the head and protrude out both sides. Be sure the housing is in proper condition, and the string is properly wound. Add new string if necessary.
Clean the outside of the trimmer with a clean rag to remove dirt and debris. Store the weed eater on pegs that hold it level when not in use.