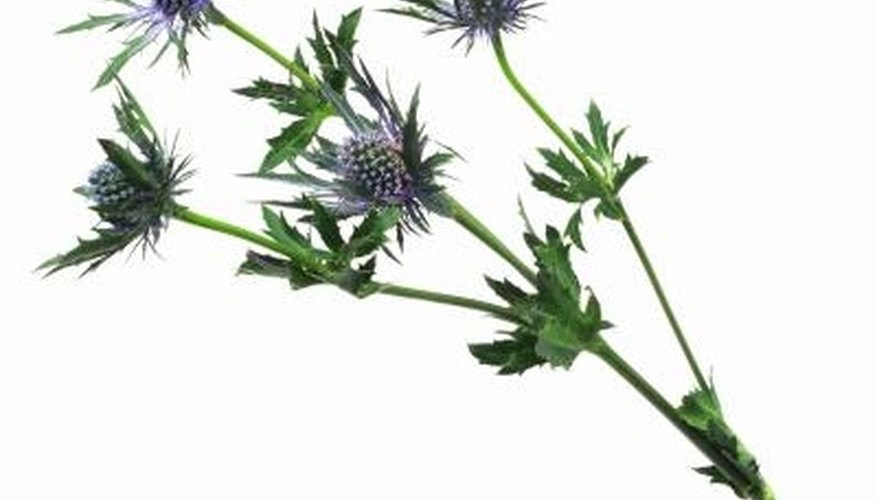 Blue sea holly (Eryngium spp.) grows remarkably well in sandy, rather dry and nutrient-poor soils well, but also adapts to the average garden soils in any perennial border. Ornamental for both its spiny, holly-like leaves and thorny-looking blue flowers, full sun exposures and cool temperatures intensifies any blue pigmentation in the plant. According to "Herbaceous Perennial Plants," numerous seedlings pop up at the base of a blue sea holly plant without much effort, and transplanting these tiny plants is the easiest means of propagation. Seeds quickly go into dormancy and if they do not sprout immediately, may take an additional one to two years before germinating.
Fill a seed tray with sand-based potting mix, such as a cactus-succulent soil mix. The soil must drain well but not be overly rich in peat or compost. The soil needs to stay moist, but never soggy as the seeds germinate. Tamp the soil mix down with your hands, but do not compact the soil and make it hard.
Gather fresh seed from the ripe flower heads off of the blue sea holly in mid to late autumn. Cut off the flower heads or shake and break off the seeds into an envelope. An individual seed is small and fuzzy, looking like a tiny animal paw, and will blow around easily in the gentlest breeze.
Scratch the soil surface in the seed tray with your fingernails to a depth of 1/8 to 1/4 inch. Small furrows and ridges form and are perfect areas to capture and hold the seeds.
Scatter the blue sea holly seeds across the scratched soil surface. Spacing isn't overly important, but if space allows, a seed every 1/4 inch suffices. Avoid clustering or piling seeds atop each another when sowing.
Gently tamp the rough soil surface and seeds down with your hand, using the flat parts of your fingers. A dry hand lets you pat the soil and seed without soil particles or the seeds sticking to your fingers.
Spray the seed tray with water to wet the soil to a depth of 1 inch with a hand-held water bottle with nozzle.
Move the seed tray to a brightly lit, cool outdoor location or, if in a cold winter area, into a cold frame. Ventilate the cold frame on sunny days so it doesn't get too warm or the soil quickly dries out. A cold frame is best in U.S. Department of Agriculture hardiness zones 5, 6 and 7 where temperatures readily drop into the -10 to 15 degrees Fahrenheit range in winter.
Keep the soil mix evenly damp to barely moist. Monitor the seed tray and spray water onto it to maintain a soil that is neither bone dry nor very soggy.