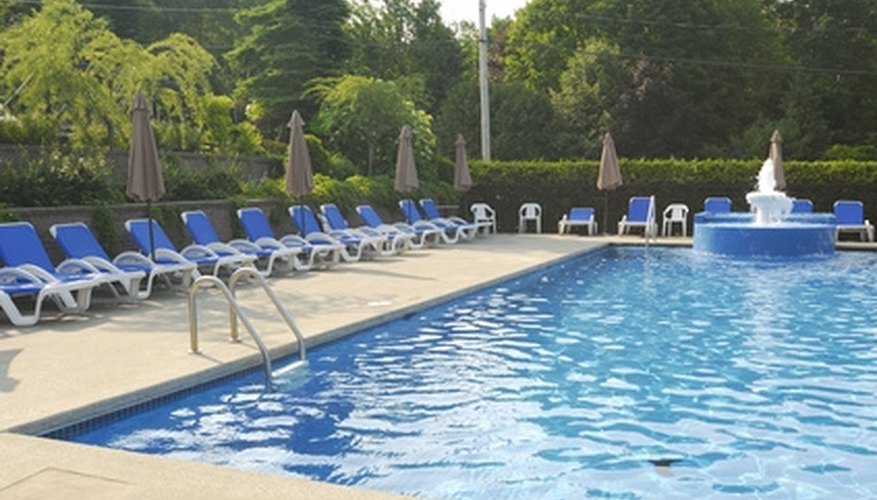 Swimming pool water requires sanitizing often to prevent harmful bacteria and other contaminants from building up in the pool. Chlorine, a common chemical used in pools, eliminates contaminants and keeps water safe for swimmers. Chlorine comes in many forms and applications including granules, liquids, and tablets. Chlorinators remedy the need to constantly add chlorine to the pool manually by automatically treating pool water as it flows through the chlorinator body. Chlorinators hook up directly to existing pool plumbing.
Turn off the pool pump and filter. Cut a section of the pool's plumbing after the filter. Set the chlorinator between the two sections of plumbing. Ensure the arrow located on the base of the chlorinator's plumbing faces the direction that the water will flow through the chlorinator.
Coat the plumbing ends with glue and primer. Slide the plumbing ends into the chlorinator's open plumbing until they fit snugly. Wait until the plumbing dries before moving on.
Unscrew the lid of the chlorinator slightly. Ensure the chlorinator's flow check valve (located on the base of the chlorinator's plumbing) points to a setting above zero. The higher the setting of the check valve, the more water flows through the chlorinator and is treated.
Turn on the pool pump and filter. Wait until water trickles out from the chlorinator lid, then finish screwing the lid on. This keeps air from gathering at the top of the chlorinator and vapor-locking the plumbing.