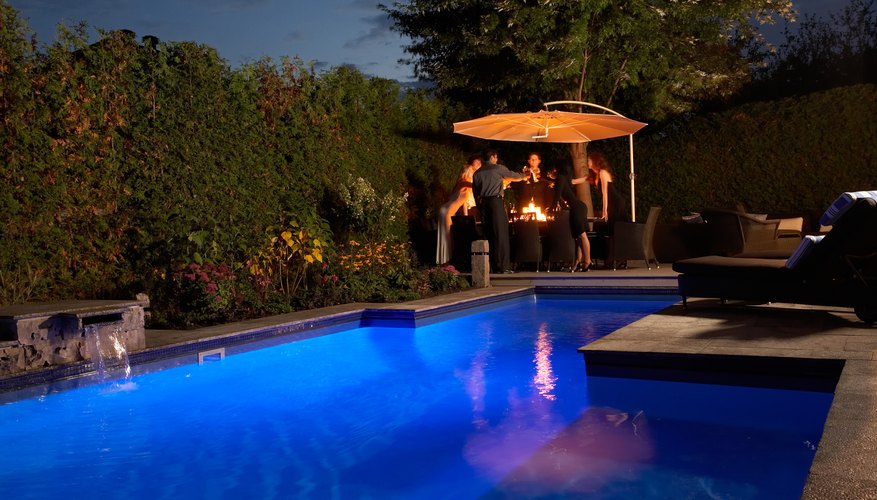 Jupiterimages/Photos.com/Getty Images
A swimming pool provides various benefits for you and your family including low impact exercise, increasing the value of your home and as a location for entertaining guests. Making your pool water glow gives the pool area a fun and energized atmosphere for parties, special occasions or an after-work swim. Several options ranging in various prices will make the pool glow without unnecessary chemicals that can damage the pool and aggravate skin.
Add an underwater light show to the pool. This small waterproof device projects multiple orbs of color throughout the water, creating the illusion of an underwater disco.
Toss several light sticks in the pool. Light sticks are an inexpensive way to make your pool glow. To activate the sticks, bend the sticks and shake vigorously for several seconds until they begin to glow. The light sticks will glow for up to 12 hours.
Purchase glow-in-the-dark pool crystals. These crystals work by absorbing light and require no extra power to work. A pool builder or contractor is required to install the crystals.
Add pool lights to the pool. Not only will the lights make the pool water glow, but they also serve to make the pool more accessible at night. Several types of pool lights are available, including floating lights and hardwired lighting.
Things You Will Need
Underwater light show

Light sticks

Glow-in-the-dark pool crystals

Pool lights